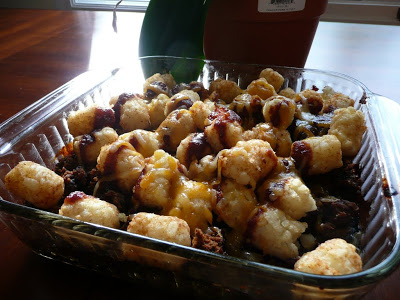 From Food
Tator Tot Meatloaf
This was an invention and improv thing and it was pretty good.
1 lb Ground Beef
3/4 Cup Bread Crumbs
1/4 cup wheat germ and/or flax seed
1 tsp salt, basil, oregano, pepper, and onion powder
1/2 cup of BBQ sauce
mix all this together and spread it into greased square pan. Spread a little more BBQ sauce on top and optional shredded cheese. Bake this at 350 for about 55 minutes. Next time I do this I might cover the pan for half of the cooking time as it seemed the BBQ sauce burned a little while cooking.
While that is baking, bake some tator tots at 350 or 400 for about 15 minutes. When the meatloaf is done after 55 minutes, add the tator tots on top (and optional cheese again) and then bake it a little longer, about 5-10 minutes or so.