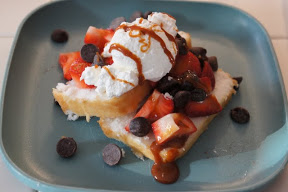 I whipped up this simple delight for Father's Day and we all quite enjoyed it. It would also be a perfect accessory to a Fourth of July shin dig with some blueberries.
All you need is some Angles Food Cake or Pound Cake, some fresh strawberries, (blueberries), and chocolate chips and even pecans if you like.
For the whipped cream, I just poured some whipping cream into my Kitchen Aid Mixer bowl, added maybe 1 or 2 TB of sugar (sorry I didn't measure) and whisked it on high until it was nice and fluffy!
I set out the cake, loaded on the strawberries, sprinkled on the chocolate chips (and pecans for mine!), scooped on the whipped cream and then drizzled some cajeta my Abue brought for me over the top!
It's delicious and healthy (if you only look at the berries and pecans…) Even the baby can partake in this dessert.