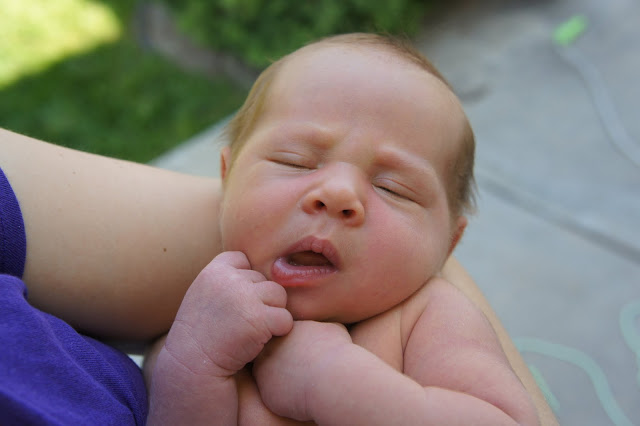 "Babymoon has several meanings. The original meaning is a period of time that parents spend bonding with a recently-born baby."
These last few weeks have been blissful as we enjoy the 'babymoon' with our newest little miracle. My husband was able to use sick days and some vacation he'd accrued to stay home with me and the babe and help with our other three children until this week. I'm eternally grateful for having all that time with my husband here to help.
Aside from being spoiled by his extra set of hands and voice (especially with the older boys and their shenanigans), I love that we both could enjoy the babymoon together. I had the privilege of carrying our baby inside of me for nine months. Now, my husband and our family get to know him together with me.
This pregnancy was different in many ways, as most pregnancies are I suppose. It was more challenging physically, emotionally and spiritually and, as I shared, the labor and birth weren't just a walk in the park either. But the joy-filled result of that pregnancy and birth – our beautiful & precious baby – exceedingly outweighs the challenges from those times. Since the moment he finally came out, I've relished every moment I get to look at him and hold him and kiss him. I'm so glad he is here and I'm not pregnant! I'd forgotten what it felt like not being pregnant.
One goal I made during pregnancy was to enjoy the moments and weeks after birth with our baby instead of getting too panicked or frazzled by everything that follows and all the family/friends visiting. Thanks to the help of my husband, and midwife, I was able to relax and just enjoy holding our baby for the first time and the last few weeks I feel I was able to really soak him in and relax and rest.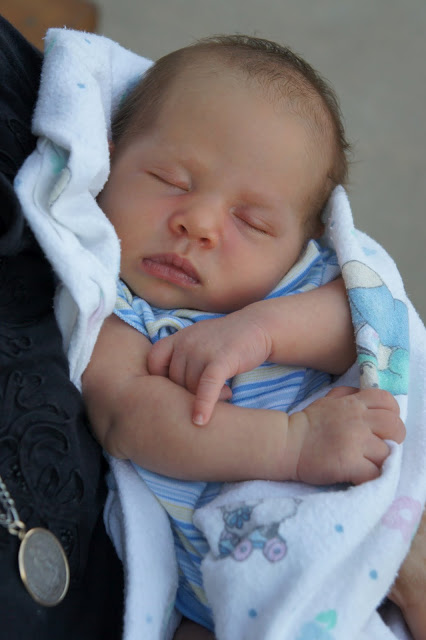 I've limited my use of the computer so I can focus on my baby's beautiful face instead of the computer screen. I love looking down at him while he nurses (although my neck protests!) I love feeling his soft new skin and running my hands over his soft hair. I love smelling him and kissing him and just taking him all in. He's been awake more and I love when he opens his eyes and bobs his head up and down looking to see me when I hold him. We stare deeply into each other and I know he knows I'm his mama and he's my little squishy and I love him.
I love watching him with his daddy, who has some magical spell over him. Though my husband obviously can't bond with him by nursing, my husband loves to hold him and sit next to us while we nurse so baby sees both of us when he looks up while nursing. He also falls asleep nicely with him and is very content when he holds him. This makes me happy because I know how happy it makes my husband. I also love this time for what it does for our marriage. I love how he takes care of me during this time. I get to fall in love with my husband all over again. I get to remember and be thankful I married him. This, this is what I said Yes and I do for.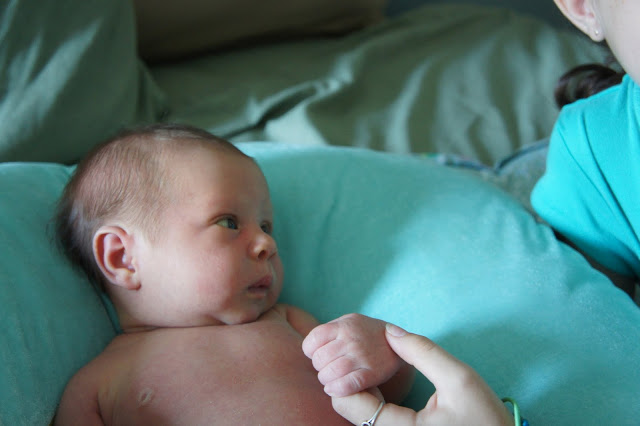 I love how much our kids love their little brother and how he is interested in them and looks at them with curious admiration. Our daughter is such a little mother; she'd probably nurse him if she could. Our five-year-old son has a sweet sincere love for his baby brother. I've had to tell him to hold off on all the kisses and touches so he just waves at him with his sweet smile all the time. I'm not quite sure what the two-year-old really thinks yet. He's kept his distance a little but I can tell he really loves him too, just in his own little two-year-old way. I know they will not always be so gentle and kind as he grows up and gets into their stuff so I'm enjoying this time of peace between him and them while it lasts.
The only thing I hate about this time is how fast it goes. It's already been three weeks (tomorrow) and I'm already forgetting moments from yesterday. I wish there was a way to make time stay still. He has nothing but love for me now and I can't get really mad with him yet. I want to hang onto this time forever. Yet, of course, I do want him to continue developing and be healthy. I'm thankful at least I can go back and remember these fleeting moments through our pictures and videos we take of him now. Although, a time machine that could let me come back and enjoy this time would be better.
Life, every moment, is so precious. Birth and death are our best reminders of this. Enjoy your day today, enjoy your family and your friends and everything. Gozar la vida.