It's Friday and I was actually able to come up with 7 things to share for 7 Quick Takes Friday hosted by Kelly so here you go.
1. New Master Bathroom Sink Faucets!
We've been in our house for almost eight years now and we're still slowly working on getting all the ugly brass/gold fixtures out. Last year my husband surprised me with a new kitchen faucet and matching one for the guest bathroom. After staring at our hideously ugly early 1990's gold faucets in our master bathroom for way too many years, we decided to finally updated those also. Sorry, no before picture – we couldn't throw those old ones away fast enough! They were not only ugly but super gross! Here're the prettier ones –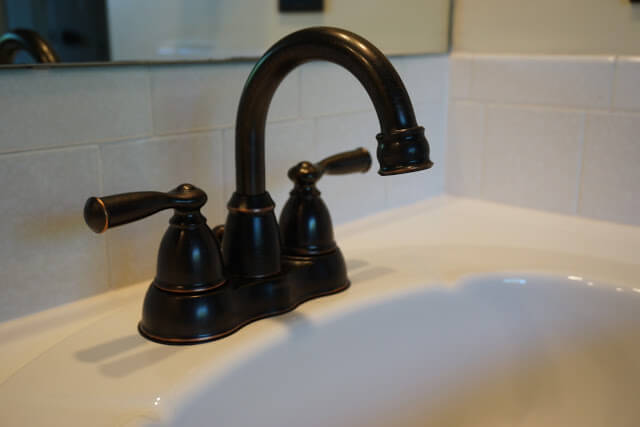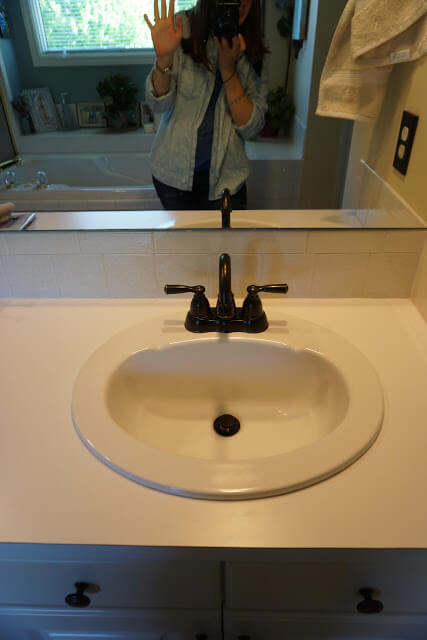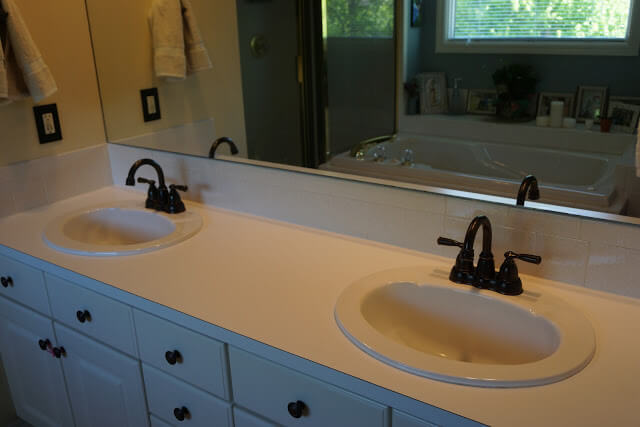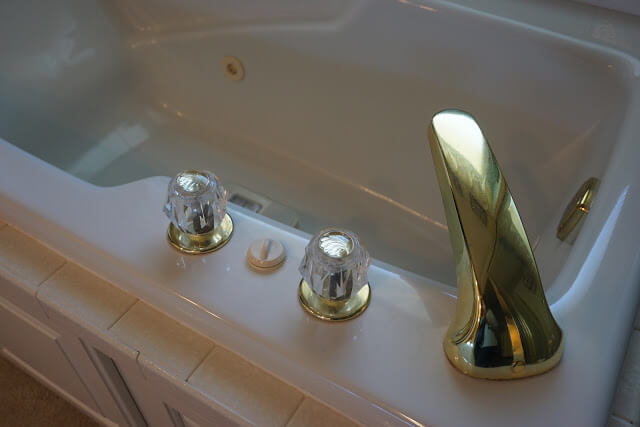 Next, we'll have to update the bathtub faucets and the whole shower needs a total redo. Anyone feel like doing that for us?….Anyone? Oh come, on it could be fun!
2. Landscaping
Along with updating the inside of our home slowly, I decided it was time to do a bit to spruce our front landscaping. Last year we had to take away all the mulch from the front when we discovered termites – boo! I'm not sure if it was the mulch that brought them – I had mistakenly used mulch we got from our fallen trees – but they exterminator recommended never using mulch again…even though we set up traps?
Either way, I decided not to add more fodder to the problem and just get rid of it. The problem is what to do with all that empty dirt space? For now, I decided to try out some ground cover and add in more bushes so we won't really need any mulch there.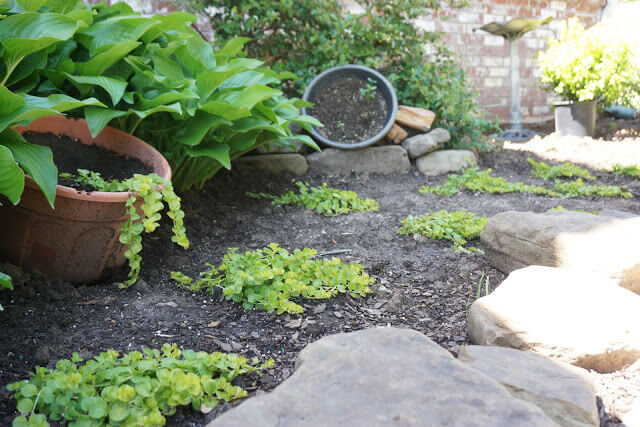 I ripped the black plastic edging out since it was coming out anyway. I really wanted to get some stones for a border but was horrified by how expensive they would be ($.29/pound can add up fast!). However, while I was digging around I found I had enough stones from behind the hostas area that I moved in front it worked out perfectly!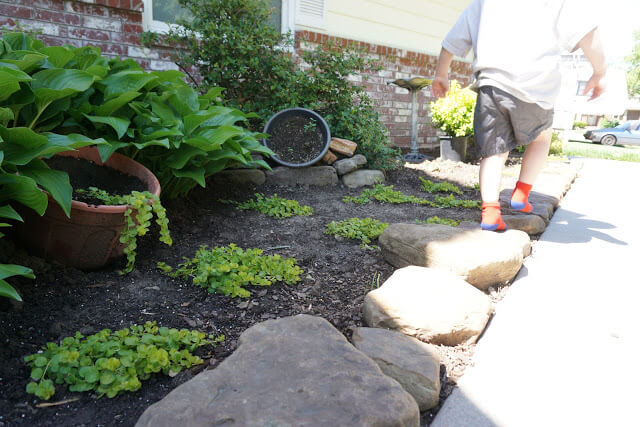 I really have no idea what I'm doing with gardening so if anyone has any other suggestions I'd love to hear them!
3. High-Waist Active Pants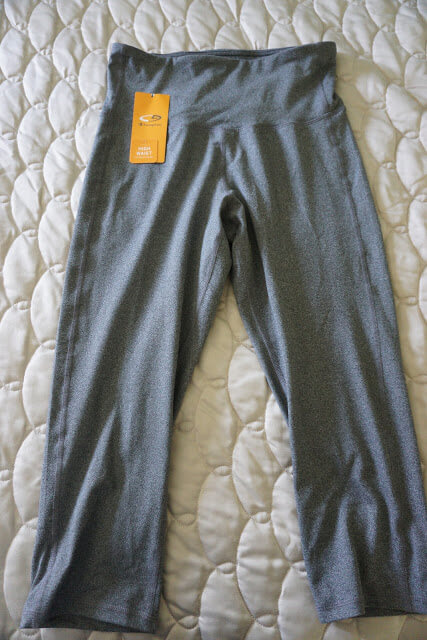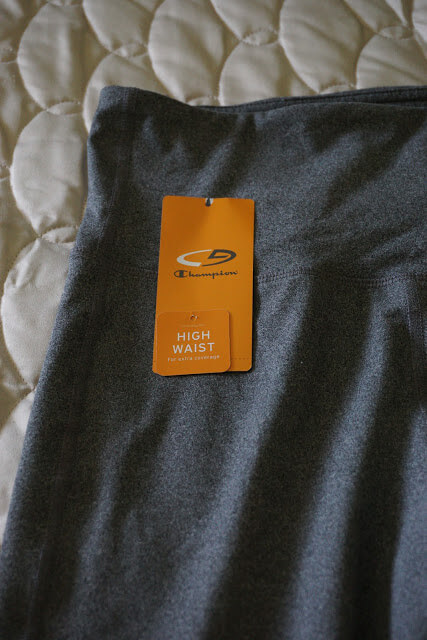 I'm not sure why I didn't start with this. These have been the most exciting discovery for me since sliced bread….wait I already knew about sliced bread. Was anyone alive before sliced bread was invented?
Pardon my tangent. So, as I've whined and ranted about before, I have abdominal diastisis (thanks to my four lovely children!) and it's hard to keep everything, er, contained while I jog our bounce around in exercise classes. I should probably try to find a girdle but who wants to do jumping jacks or burpees in a gurdle? (who wants to do burpees at all?)
I decided to go out to Target and look for a few new exercise clothes – since I realized I probably shouldn't just wear my old pj's for public work-outs like I do at home. At first it seemed silly to spend money on clothes I would drench in sweat but once I found these high-waisted leggings I had a change of mind.
I bought a size smaller than I probably should get so they fit tighter around my abs and wow – what a difference! No more jiggling or having to try and hold myself together with one hand and pump weights with the other. Don't worry, I also bought shorts to go over the pants since they're a bit tight and no one wants to see what that means for my underwear line.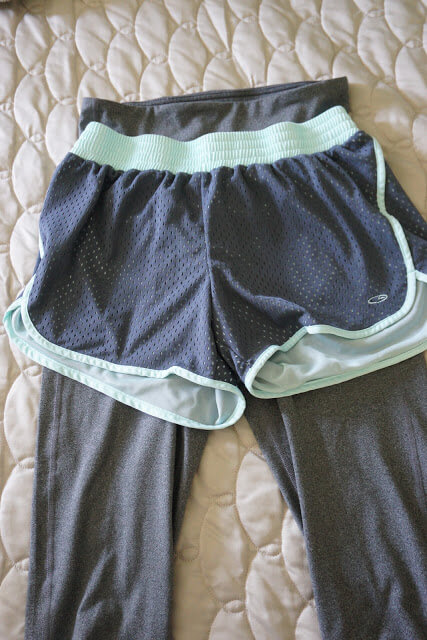 Like my friend, Vicki said, "When you feel like you look good it makes you feel better about yourself."
4. CM Hangout – #Book Love!
I love books! You probably already guessed that but I needed to proclaim it in writing. I had so much fun Hanging Out with two of my fellow CatholicMom.com writers and talking all about the books we love! I only wish we could have talked longer – but I could talk about books forever so it's probably best we limited our time to only 45 minutes of book love talk. 😉
If you love books and would like some new ones to add to your book stack or summer reading list, watch/listen to this week's CatholicMom.com CM Hangout for ideas.
5. Openness to the Infinite
Speaking of great podcasts, have you listened to any from Catholic Stuff you Should Know? I've listened to a few of theirs lately and really enjoy their banter and open thoughts on some really interesting topics. This one, Openness to the Infinite was particularly great and gave me a lot of thoughts to mull over. I'm gonna have to pick me up some Balthasar. I'll definitely re-listen to it again!
6. Summer Survival Planning
My kids have started to countdown to the end of the school year – 23 school days until the last day! Yowzas!!
On the one hand, I'm really looking forward to a break from the responsibilities of school. You know, having to get up and get everyone to school on time & all the homework and deadlines and sign-ups. On the other hand, we all seem to really thrive with a routine and structure and I admit, I've gotten spoiled with only having one at home with me. But then again, I love my kids – all four of them….it's just a little loud when we're all together…all day long…for a whole summer. 😉
So, I decided to lay out some good solid "ideas" for what we can spend our time doing this summer. We're blessed to live in a place that offers a great variety of activities for kids and families in the summer so I'll definitely be tapping into those places around town. I feel much better after getting it all out on paper before summer begins.
The hard times, for me, come during the "unscheduled" times when the kids say they "don't have anything to do" and all I want to do is take a nap. I did make a "boredom buster jar" last year but they usually are too bored to do any of the ideas in it.
Any other ideas for what we can do for/with your kids during the down times in summer so that we don't end up trying to nibble on each others' heads for fun?
7. Anxiety In Motherhood
Speaking of biting heads off, I'm working on a blog series about Anxiety in Motherhood that I'll start posting soon! I'd love to hear how you deal with anxiety in motherhood?
I'm also super excited because one of the reasons I'm writing on this is because Erin Franco, the Humblehandmaid, invited me to be a guest on her Right Heart podcast and share about how to deal with Anxiety in Motherhood! It will be fun being the guest instead of the host. I figured if I was going to talk about that, I should probably spend some time writing about it too. Stay tuned and I'll let everyone know when that podcast is available!