As much as I miss my own dad today, I'm filled with joyful gratitude for the fathers I do have with me [physically] in my life today. My husband, my father-in-law, brothers, uncles, cousins, all the Fr. priests in my life and all the great men and fathers we are blessed to raise our families along with.
For my husband, the best father my kids could ever have.
I love how much he loves them. I remember when our first child, our daughter, was born. We were both so overwhelmed by joy and amazement that this person could be our own child! It was terrifying and humbling. At first, parenting for both of us was like trying to learn how to drive a manual car. You know, the ones were you have a clutch you have to physically push down with your left foot while you simultaneously move your right foot off the brake and ease the gas pedal down while also using your right hand to move the gear shift and, oh remember to keep your left hand on the steering wheel so you don't swerve into any other cars of off the road!
Yeah, that's what first-time parenting is like. And boy did we struggle and at first our movements were rough and jerky and there was often the harsh sound of grinding gears as we figured out how to smoothly transition from one gear to another without breaking the baby.
But as our daughter grew and as we added our three sons into our lives, I saw my husband grow too – as a man and as a father. We slowly learned how to let go of ourselves so that we can fully enter into the love of our family and give of ourselves fully to our children together.
We're still learning for sure and we have many more challenges ahead but I'm thankful today for the amazing and wonderful father my husband is.
When I'm going crazy and can't handle all the pressure, he comes in and with one look everyone settles down and remembers they are human beings and not wild animals. When I'm all out of energy after a long day and everyone is about ready to explode, my husband diffuses the ticking time bombs with laughter while he chases, wrestles or tickles all the stress out of everyone.
There are many things a mom can do, it's true, but there's so much that only a father can do. Trust me, I've tried to sound like him and make the kids listen to me like they do to him – I may have even recorded his voice so I would sound like him when lip-sync yelling at the kids. It didn't work. It's gotta be him. He has this certain power…or influence over them by his mere presence that I just can't mimic.
I see how the kids are with him, how they love to spend time with him, how they love doing the silliest and seemingly meaningless stupid stuff with him and it brings them all so much joy. I love that he teaches them all about the random trivia of life, the science of the weather and all about the mysteries of the vast space that spreads beyond our imaginations. When our kids grow up and become meteorologists, astronauts, or astrophysicists it'll be because of all the time their daddy spent sharing the scope of his knowledge and introducing them to all the wonders of the world.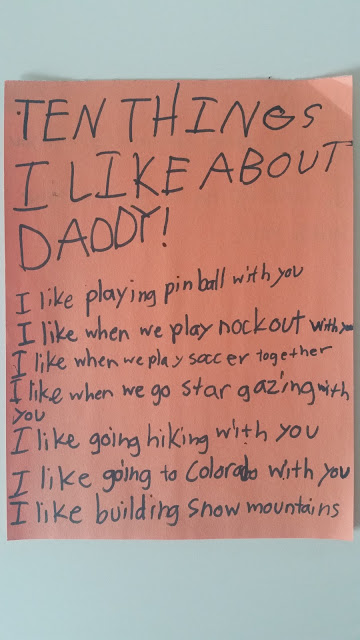 We both bring our strengths and our gifts together and I'm so thankful I have him as a partner in this whole parenting gig.
For my father-in-law, a man I respect and admire greatly.
I know some people don't get along with their in-laws but I gotta say that my father-in-law is pretty dang awesome. I've always loved that we can converse together and talk about the things of the world and also about our shared Catholic faith. Over the years we've mulled over hard mysteries and questions about God and our unique Catholic and faith experiences.
I'm immensely grateful especially for the gift of his craftsmanship and handy man talents. He's graciously helped me turn many ideas into physical realities and rescued and fixed many of my attempts at trying to put things together on my own. Mostly I'm humbled by how my father in law has always welcomed me into his family and treated me as his own daughter.
Lastly, but definitely not least, I'm thankful for the spiritual fathers I've always had with the many Catholic priests I've known growing up.
For all the time they give to bring Christ's love and healing grace to me through the Sacraments or by offering patient guidance in my times of discernment.
By their physical presence they are here for me as a father In Persona Christi always reminding me and pointing me to the One Father who has, IS, and always will be my Father who loves me and is with me. He knows me and will never forget or leave me.
Though I'm missing the physical presence of my natural father today, I'm thankful for all the great men in my life who I can also look to as fathers to guide me, protect me, and love me.
My awesome husband captured this magnificent photo of an amazing lightning storm the other night. It reminds me of how we all connected by the same source of LOVE that spreads through all the veins of our human ancestry.