Do you like watching movies? Do you appreciate genuine and authentic movies that encompass Truth, Beauty, Redemption, LOVE and all that other good stuff? Do you relish a deep, enriching and eclectic conversation with others who also value these same qualities in a good movie?
Well hold onto your popcorn and hold your hopes up high cuz I've got an exciting announcement for you!
I'd like to introduce and invite you to a new endeavor unlike anything you've ever screened before…
The Catholic Community Cinema Society was proposed and founded by none other than the Most Overly Enthusiastic Cinephile I've ever known: My long-time friend, Joel, who writes all about movies, books, culture, family, faith, and other cool life stuff over at I/FWP. (That's short for Ideas. Folk. Work. Place.)
Basically, those who want to be part of this awesome Catholic Community Cinema Society will all watch the same movie each month and then have fun conversing about that same movie. See Joel's blog post for the specific details on how it works and how you can participate.
We've already lined up the first three movie picks for July, August, and September:
All these are currently available on Netflix Instant Watch. You can also rent the Princess Bride, Shawshank, and The Hustler on Amazon Prime for $2.99.
If you aren't sure about joining in, know that Joel used his Overly Enthusiastic picture and brotherly charm to convince not only myself but also the hilarious Mary of Mary Big Hair to join this new Society (said in a stuffy High-Class British accent) so that he wouldn't be all alone in his overly enthusiastic cinephilia.
Of course we agreed because we didn't want to make him feel bad er I mean, because we too are overly enthusiastic about movies!!!!!!! (See all those exclamation marks?) See, I'll even give you my own Overly Enthusiastic expression to make up for using his picture without permission. (Although, he did send me the picture so technically I have full rights to use it how I choose, right?)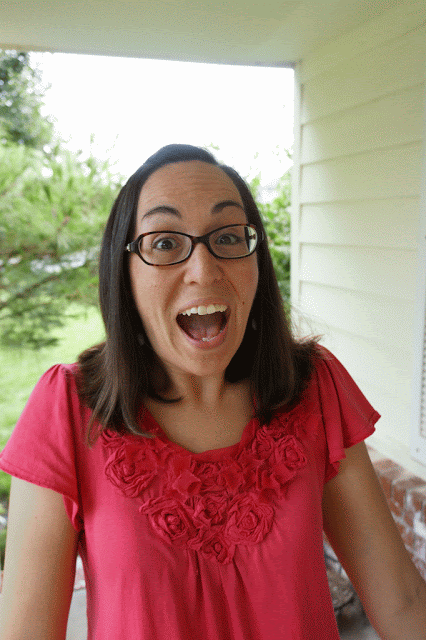 Now that we've probably scared you away with our overly enthusiastic selves – or at least convinced you to join us for the obvious entertainment factor – head on over to Joel's blog and stay-tuned for a post later this month all about The Princess Bride!
(Amazon Affiliate links included in this post – Which means when you purchase anything on Amazon after clicking the links, they send me a teeny thank you gift card I'll probably use for either books or renting more movies.)