Our family recently took a vacation to Colorado Springs. There was a two-fold purpose for our trip there. 1–Rest and get away from everything here at home and 2-hike up Pike's Peak. (Well actually only my husband and his mom and brother planned on doing that part.) So here was the plan for that: My father-in-law would drive my husband, his brother and mom to the start of the Barr Trail. They would hike up to the top, the kids and I would drive up to the top with him and we'd meet them up at the top and then he would climb back down with them. The sign at the bottom of the trail said that at a brisk pace you can expect to reach the top in 6-8 hours yet somehow our plan seemed attainable and so off we went. The three hikers got started on the trail around 7 a.m. and said they'd probably meet us up there around 1 ish. (Apparently they were shooting for the "6" in the 6-8 hours).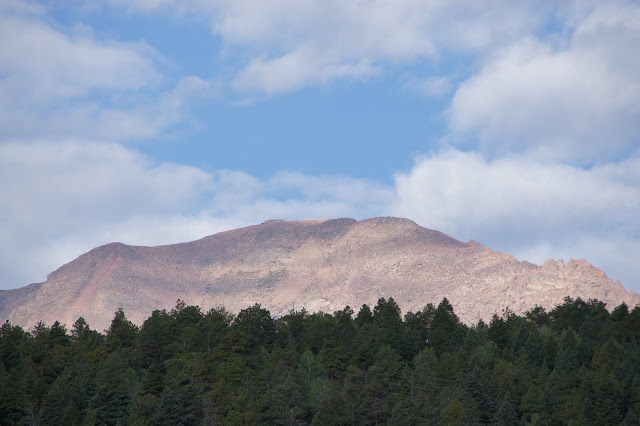 At this point I didn't really give much thought to any of this because, well I was on vacation and I wanted to take a break from being in charge and making all the decisions for a little bit. So around 11 we gave them a call from the hotel and it sounded like they were doing pretty good so we decided to go ahead and pack up and go. We gave them another call once we got through the Pikes Peak Tollbooth. My husband sounded a little more out of breath but still strong. I can't remember the details now of how far up they were but they were not as high up as we thought they'd be by then. So we decided we'd just take our time and enjoy the ride up, hoping this would give them more time to make it up by the time we did.
We stopped around the half-way point of the Pikes Peak Highway at the Crystal Creek Reservoir Visitor Center (I think that's where we were anyway). This is Bigfoot favorite hangout place.
Then the kids played in the little mine water. Grandpap did actually find some Fool's Gold so that was fun! My youngest son really liked playing with the water but I wasn't sure how clean it was so we didn't let them put their hands in there too much. I think the kids could have stayed here forever but we decided to explore beyond the center and see where the walking paths took us.
Behind the Visitors' Center building is the reservoir so we walked around there and the kids asked if we could go fishing like others were doing. I said that would be nice but we forgot our fishing gear at home. They enjoyed walking out onto the dock and feeling like we were on a boat.
It was very beautiful here. I think this was probably my favorite part of the journey. Everyone was happy and we weren't in a hurry and it was…peaceful. Looking toward the peak though and seeing some clouds starting to form made me wonder how my husband and his mom and brother were doing and I said a little prayer for their safety.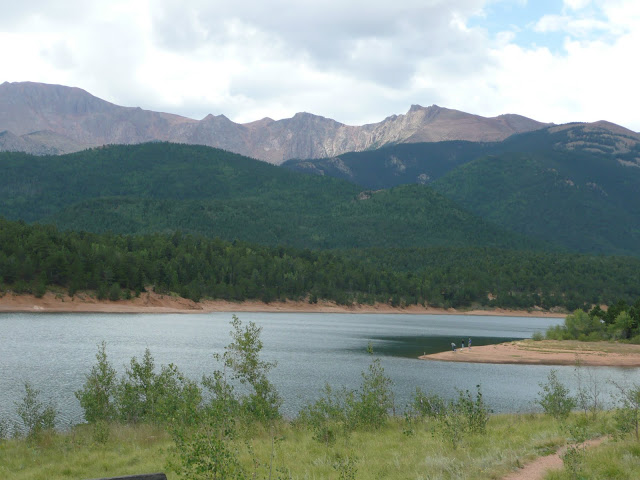 We've been to this visitor center before but we'd never gone beyond the reservoir. So since we had plenty of time to waste we decided to see what else there was. Apparently there was more beauty and more peace waiting to be found.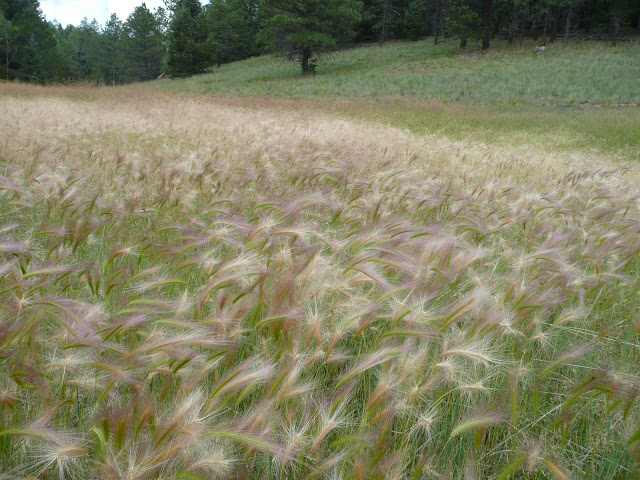 We found a beautiful meadow with these fluffy things. There was something about this meadow, it seemed almost magical. I wished I could lay down here and sleep forever.
The seven year-old and almost five year-old were entranced by the fluffies too.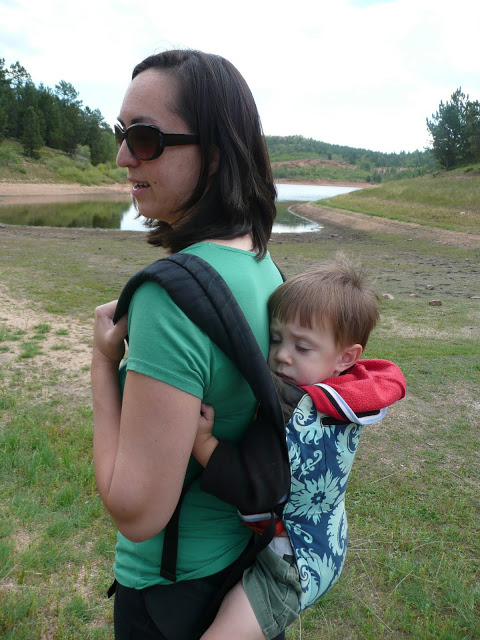 This little hike proved especially wonderful for the toddler. (My strap was twisted so it was only slightly uncomfortable for me. I am so glad I brought our Beco with us!)
Ahhh, childhood.
After we walked around for a while we figured we had wasted enough
time and everyone's tummy's were starting to grumble so we headed back to the
Visitors' Center. About this time some rain clouds had ambled overhead so we
hung out in the store for a little while until it stopped sprinkling. I decided
this would be a good time to call my husband and see how they were progressing.
The good news was that everyone was still doing good and moving along steadily
but it not quite as briskly as they were hoping. I think this was around 1 or
maybe 1:30. After the sprinkle shower passed over we sat out on the benches overlooking
the reservoir with Pikes Peak in the distance and took our time eating our
lunch. It was nice not to have to hurry and eat for once! The kids enjoyed our
little lunch guests too.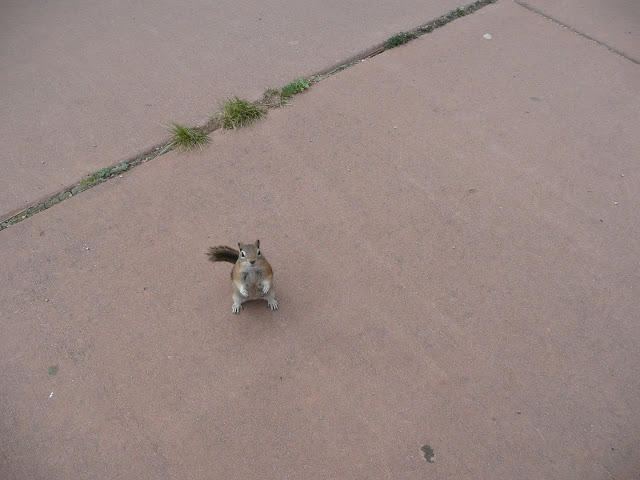 After lunch we decided it was time to keep moving. My
father-in-law was anxious to get to the top so he could start climbing down
with them and I think he was getting slightly frustrated that they were not going
as fast as they had estimated. So everyone used the bathroom one last time and we loaded back
into the van and continued slowly up the mountain.
Not too long after that we got to the Glen Cove Center, which is
the last shelter area on the highway before the peak. Last time we were here I
was pregnant and this was where I stayed while my husband, his parents and the
two kids went up to the peak. At the time I wasn't comfortable going any higher
since I was already having to work a little harder to breathe and figured it
wasn't going to get any easier the higher I went. This time I wasn't pregnant
and it gave me a great sense of accomplishment to go up past the tree line.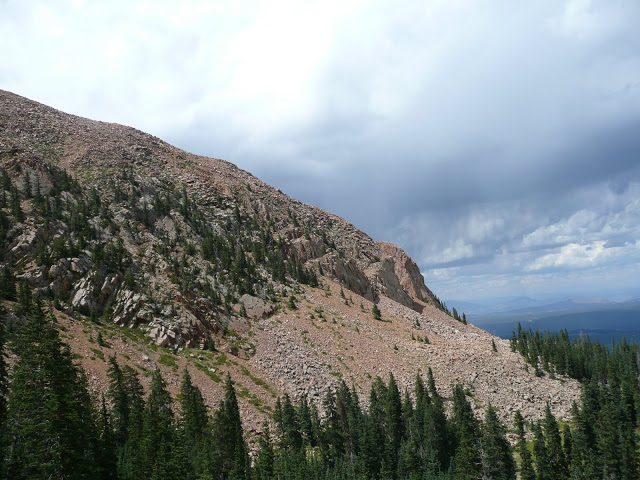 My father-in-law and I laughed though as we remembered how they
had all gone up and made it to the top just as a huge storm had rolled in. It
wasn't a very fun ride back down for them or a fun time for me either as I
waited and watched for them to return out of the thunder and lightning storm. We
were all so glad they had made it down instead of getting stuck up there during
that storm. That wouldn't have been very fun.
For some reason, a reason I will never know until I die, we did not
call my husband again before we continued up past this last shelter area. My
father-in-law was determined to get there and I think we figured enough time
had gone by that they should be closer to the top now and we'd probably get
there right around the same time. I was in the passenger seat so I ignored the
rain clouds setting shadows over the land below and tried to just enjoy the
ride up.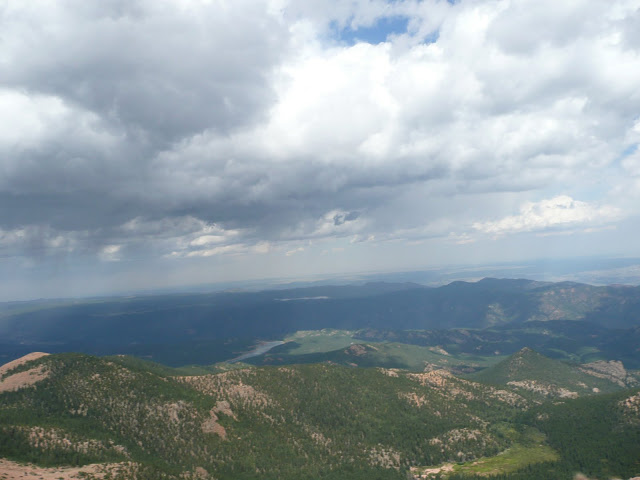 It took a lot longer to get to the top than I thought it would but at long last we made it! It was cold and windy! The toddler had fallen asleep again on the way up (which is normal for him on long car rides) so my father-in-law stayed with him while I took my daughter and son out to see how high we were. I hope they will remember this moment forever.
I can't remember the chronological order of everything that happened next or all the details but this is where the story starts getting exciting. I wrote out everything last night, I stayed up way too late getting it all typed out on the blog. Then I decided to look it over one last time in the morning before publishing. I got up this morning to make sure there weren't any glaring typos or exhaustion-induced discrepancies before posting and I almost cried when I logged in and almost everything I had typed out so carefully was gone. I am 99.9999% sure I had saved before going to bed but somehow it was just gone.
And now, it is already slightly past my self-appointed bedtime and I am really trying to stick to it for the sake of my mental and physical health so I'm going to do something terrible and leave you hanging until I come back tomorrow
and finish telling you why the story gets exciting here. Here is a nice picture to make you feel happy while you wait.