White Chili is up next in the Autumn Soup Series by Martha. This is a fun twist to the average brown/beef chili. It seems more elegant and creamier. I really like the taste of the white northern beans combined with the chicken.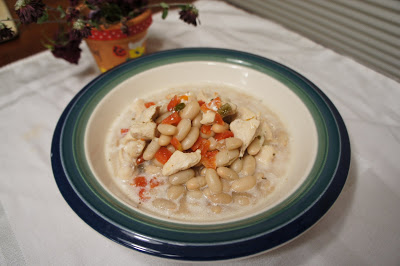 Here is the recipe below as shared by Martha. Mine came out a little different because I failed to read the recipe all the way through before just dumping everything into the crock pot, oops! It still tasted great but I'd like to go back and see if they chicken has more flavor if I saute it with the onion and garlic (which I also didn't get to add b/c of a toddler who doesn't believe in naps!). I also didn't put in as much cheese as too much cheese doesn't settle with our tummies very well. Have you ever had White Chili? What are some of your favorite White Chili recipes?
White Chili
originally from Janice McClure
Soup Ingredients
3 cans northern white beans
6 cup chicken broth
1 tsp. chicken bouillon
¾ large onion, chopped
1 Tbsp. oil
6 cloves garlic, minced
½ can Ro-tel diced tomatoes with green chili peppers
3 tsp. ground cumin
2 tsp. dried oregano
1 1/2 tsp cayenne pepper (I didn't have this so I added 1 tsp of chili powder instead)
4 cup cooked chicken, diced
1 cup sour cream
3 cups Monterrey jack cheese, shredded (I only had mozzarella, which does NOT substitute well!)
For serving ingredients:
Sour cream
Green onions
Cilantro chopped
Tomatoes chopped
Combine beans, broth, and chicken bouillon in a large pot. Simmer covered for 20 minutes.
Sauté onion and garlic in oil until golden, add this, ro-tel, cumin, oregano, cayenne pepper and chicken to the bean mixture. Simmer for 30 minutes,
Add sour cream and cheese and heat until cheese melts.
Serve with sour cream, green onions, cilantro and chopped tomatoes or any other topping of your choice.
May be frozen before adding sour cream and cheese.