With gloomy grey skies and bareless branches, the end of autumn has come and the cold long days of winter are upon us. But before we all retreat into hibernation, here are two more soup recipes in the Autumn Soup Series by Martha to warm you up. Thank you again, mom, for sharing these!
First, a hearty Chicken Stew: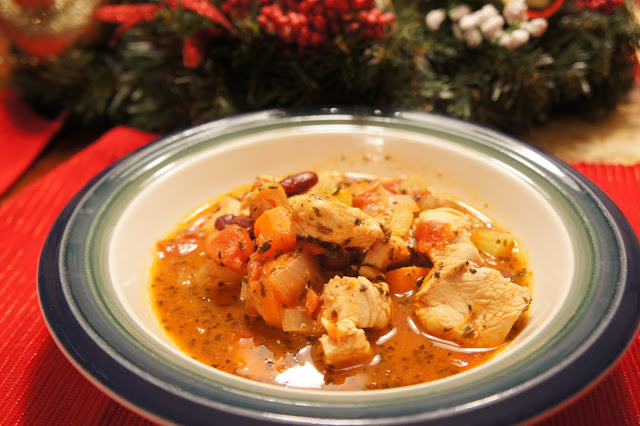 Ingredients
2 tablespoons olive oil
2 stalks celery, cut into
bite-size pieces
1 carrot, peeled, cut into bite-size pieces
1 small onion, chopped
Salt and freshly ground black
pepper
1 (14 1/2-ounce) can chopped
tomatoes
1 (14-ounce) can low-salt chicken
broth
1/2 cup fresh basil leaves, torn into pieces
1 tablespoon tomato paste
1 bay leaf
1/2 teaspoon dried thyme
leaves
2 chicken breast with ribs
(about 1 1/2 pounds total)
1 (15-ounce) can organic
kidney beans, drained (rinsed if not organic)
Serving suggestion: crusty
bread
Directions
Heat the oil in a heavy 5 1/2-quart saucepan over medium
heat. Add the celery, carrot, and onion. Sauté the vegetables until the onion
is translucent, about 5 minutes. Season with salt and pepper, to taste. Stir in
the tomatoes with their juices, chicken broth, basil, tomato paste, bay leaf,
and thyme. Add the chicken breasts; press to submerge.
Bring the cooking liquid to a simmer. Reduce the heat to
medium-low and simmer gently uncovered until the chicken is almost cooked
through, turning the chicken breasts over and stirring the mixture
occasionally, about 25 minutes. Using tongs transfer the chicken breasts to a
work surface and cool for 5 minutes. Discard the bay leaf. Add the kidney beans
to the pot and simmer until the liquid has reduced into a stew consistency,
about 10 minutes.
Discard the skin and bones from the chicken breasts.
Shred or cut the chicken into bite- size pieces. Return the chicken meat to the
stew. Bring the stew just to a simmer. Season with salt and pepper, to taste.
Note: Again, I didn't follow the recipe exactly and just used cut up chicken breasts without the bone so cut that whole part out but it would add a lot of flavor if you are able to do follow the recipe exactly.
Next, a Roasted Basil Tomato Soup
(shared from The Barefoot Contessa Cookbook)
Ingredients
3 pounds ripe plum tomatoes, cut in half lengthwise
1/4 cup plus 2 tablespoons good olive oil
1 tablespoon kosher salt
1 1/2 teaspoons freshly ground black pepper
2 cups chopped yellow onions (2 onions)
6 garlic cloves, minced
2 tablespoons unsalted butter
1/4 teaspoon crushed red pepper flakes
1 (28-ounce) canned plum tomatoes, with their juice
4 cups fresh basil leaves, packed
1 teaspoon fresh thyme leaves
1 quart chicken stock or water
Directions
Preheat the oven to 400 degrees F. Toss together the
tomatoes, 1/4 cup olive oil, salt, and pepper. Spread the tomatoes in 1 layer
on a baking sheet and roast for 45 minutes.
In an 8-quart stockpot over medium heat, saute the onions
and garlic with 2 tablespoons of olive oil, the butter, and red pepper flakes
for 10 minutes, until the onions start to brown. Add the canned tomatoes,
basil, thyme, and chicken stock. Add the oven-roasted tomatoes, including the
liquid on the baking sheet. Bring to a boil and simmer uncovered for 40
minutes. Pass through a food mill fitted with the coarsest blade. Taste for
seasonings. Serve hot or cold.
I hope you enjoyed the Autumn Soup Series by Martha! You can find all the soup recipes here. Any suggestions or volunteers for the next Food Series?