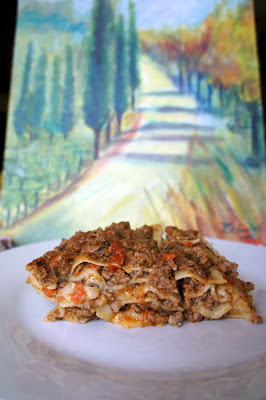 My mom made this delicious Lasagna for our daughter's 1st Communion celebration and I'm finally getting around to sharing it. I call this an "authentic" Italian lasagna since her sister, who lives in Italy, helped her with the recipe and guided her over the phone while she made it. My mom's not Italian but sometimes she may as well be since making Italian food is most definitely her forte!
I love lasagna but don't make it as often as I should because I get lazy, it helps to break the steps up throughout the day or in a 2 day period. You could cook the meat one day, make the sauce another, and then assemble and bake it. It also freezes well before baking.
The recipe my mom used is a bit more involved, since it's "authentic", but the results are well worth the extra work. You can see her Lasagne alla Bolognese recipe here.
What's your favorite lasagna recipe? (I usually just follow the one on the back of the box)