"My soul proclaims the greatness of the Lord; my spirit rejoices in God my savior. For he has looked upon his handmaid's lowliness; behold, from now on will all ages call me blessed. The Mighty One has done great things for me, and holy is his name." (Luke 1: 46 – 49)
Great things indeed:
A relaxing and joyful summer vacation with my beautiful children.
A GOOD 'last' day (before school) together.
Making a cool hair-do with my daughter's hair.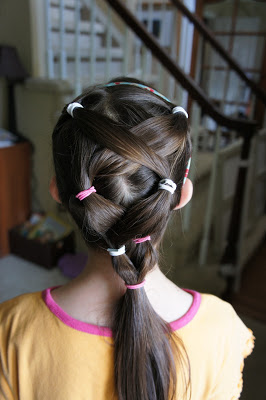 Reading in the hammock with my babes.
The cool fall summer breeze as we rocked and read together.
A little walk – alone and then with my children on a wonderful 'cool' day.
A family nature walk over the weekend.
Fellowship with beautiful, wise, generous women and their children.
A great zoo trip and fun at the park with friends during the brief respite in the "Summer of a Thousand Rains".
Sweet smiles from godchildren.
A new dishwasher!
A very, very good first year with our little baby! (Celebrating first b-day tomorrow!) I am so, so, so, so, x infinity thankful for him.
So glad I am NOT anxiously still waiting for him to be born the night before school starts!!!!! (Praying for any mamas who are waiting to meet their babies.)
Mary – my Mother, my friend, my sister, my Queen.
I'm especially thankful for the freedom I have to safely walk down the street in pants and a t-shirt with only my hair as my cover, and to go to my Catholic Church and worship, and to live out my Catholic Christian Faith. (Praying deeply for my Christian brothers and sisters who are greatly suffering right now and are truly enduring "persecution in His Name.)
My little garden (zucchini, cucumbers, and some wild flowers).