Happy Easter!!
Today, we celebrate that our Lord and God, Jesus the Messiah, IS RISEN!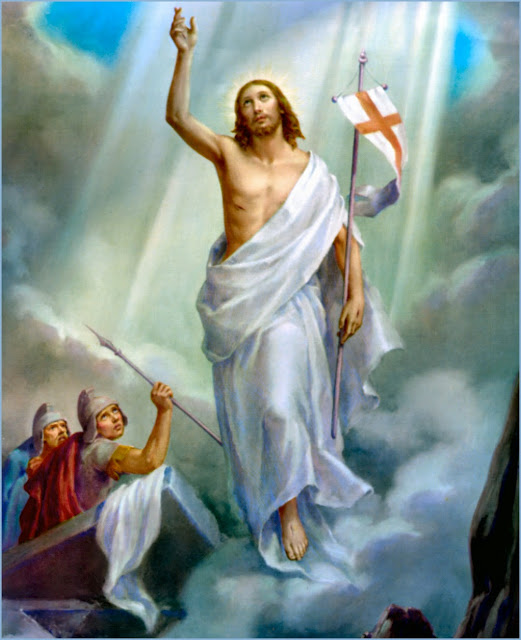 Last night, I went to the Saturday Easter Vigil Mass for the first time since high school. It was most likely one of the most beautiful and joy-filled Mass celebrations I have ever been to.
I feel giddy with excitement. I'm trembling with JOY. I'm inebriated with the energy of the Holy Spirit. I feel renewed and exhilarated in my belief and love for Christ.
I have been re-awakened, my soul resurrected, clean and ready to begin again.
Part of the reason the Mass was so beautiful was because we got to witness our friend my husband sponsored, and many other new friends we made this year through the RCIA process, become Catholic and enter in the fullness of the Christian Faith.
We celebrated their baptisms, watched as the holy water poured over their heads, symbolizing Christ washing away the stain of sin, leaving their souls clean and fresh.
We watched them receive the candle of baptism, symbolizing the light of Christ that they will kindle in their hearts and use to light the paths of all those around them.
We witnessed their declaration as they confirmed their belief in God – Father, Son, Holy Spirit – and in the holy church through which God pours His graces to the world.
We breathed in the delicious aroma of the chrism oils as they received the Sacrament of Confirmation, igniting their souls on fire with the gifts of the Holy Spirit.
And, finally, we processed with them, as they received the Body of Christ in the holy Eucharist for the first time, consummating their love and union with Christ and his Church.
Their faces were full of somber and confident joy. They had spent the year listening and learning, thinking, questioning, asking, praying. And now, the time had finally come. The time to be "reborn", welcome and embraced into a new world. A world flowing with the "milk and honey" of the Sacraments of the Church. A world with thick roots that dig down to the very Source of our Life. A world full of amazing possibilities and endless discoveries.
Their joy radiated throughout the entire church and I longed for it. I'd been Catholic all my life, and this is a great gift. But in a way, these "converts" have been given an even greater gift. The gift of knowing what it was to not have and then to have. They were walking along in life, happy enough but missing something. And now, they found it, the undiscovered treasure they didn't even know they were looking for until they found it.
Standing there, in a "cloud of witnesses", I saw it. This is what the catholic church is. This – this beautiful worship flowing with Grace and electrified by the Holy Spirit, this is it.
And this is what heaven is.
Heaven is a Perpetual Easter. A continuous and never-ending celebration of Christ's Resurrection and Triumph. And, just as we celebrated all those who were welcomed in the church on earth during the beautiful Easter Vigil liturgy, every day, every hour, every timeless second, souls are welcomed into the everlasting and complete union with Christ in His Kingdom.
I live with a joyful HOPE for that day I can join into the fullness of Christ, the fullness of life.
But my greatest hope is that YOU will desire and have that too.