Hello?
Yes, I'm still here. Are you?
Forgive me, I got a little distracted after my Anxiety in Motherhood series with a few things going on around here. Now is a good time for a random blog update. This was supposed to be a Seven Quick Takes Friday but since it's now Sunday we'll just go with 7 Random Sunday Takes.
~ My little sister graduated high school last weekend! To celebrate, all our brothers, a sweet four-year-old nephew, and our aunt and uncle (my dad's brother) flew in to watch the spectacular event. It was so wonderful to spend time with all of them – this time for a joyous occasion. My heart is filled with love and gratitude for my family.
~ Right before that, I decided it was time to finally renovate our Office/Homework Room/Entry Way room. Yes, that's a lot of multi-tasking for one little room. I've been sharing some of the updates on my Simplemama Instagram account. I'll do a whole post dedicated to the room soon. It's been a very fun project and I'm incredibly happy with how it's looking! Of course, my favorite part was ripping out the old yucky carpet!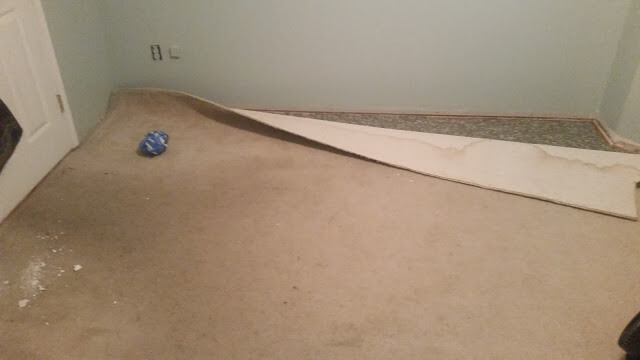 Being the main entry room after we come in from the garage, you can imagine how much dirt this thing collected. Yuck, yuck and yuck. So glad it's gone!!!!
~ With that, I spent most of early May consumed by looking at obsessing over ideas for what colors to paint the walls and how to rearrange the room to make it functional as my office, a homework station, and an entry way. It's been fun and I'll share what I've done so far soon.
~ The kids' school finished last Thursday – woo hoo! To be honest, I was feeling very anxious as the end came sooner – it can be slightly exhausting having all four kids together in one place for so long without the built-in structure of the school days. But with a little planning and prep, I'm feeling more optimistic about – maybe cautiously optimistic is a better description but at least there is more optimism than anxiety at this point.
~ Personal Fitness. A friend of mine said a few weeks ago that she thinks I've become addicted to going to the Y now – jokingly…I think? Well, in a way she's kind of right. I do go a lot – 3 – 5 days/week and I am feeling really good about keeping a consistent weekly exercise routine. In April, when I returned to the Y I felt like this remember –
Now, almost two months later, I probably still look like that but I've really hit a good stride. I feel stronger and I'm able to stick with the whole routine all the way through without stopping to gasp for air every 5 minutes. I even added in my own challenging work-outs. I feel excited about working out now and am pushing myself beyond what I think I can do and it's so exhilarating!
~ On that same note, did you know there is such a thing as prescription swim goggles? Well, there are! My friend, Michelle, shared on Facebook that she had just gotten a pair so I looked it up and a whole new world opened up to me! I called up my eye doc to see if they would even be strong enough for my blindness and yes – he said said the -8.0 would be good for me…which is the very last option. I bought them and wore them to swim yesterday and it was amazing! It's the first time in many, many years I've been able to see while I swim. It's like a miracle. Thank you, Michelle for sharing about these!
~ Speaking of being able to see while wearing prescription goggles, my other friend, Mary – who you might recognize as the hilarious blogger over at MaryBigHair.com (Get over there and prepare to laugh!) – jokingly suggested that I should just wear the goggles around everywhere like if they were my regular frames. I thought about it, and after serious consideration and weighing all the pro's and con's, she's right! Since we'll be swimming a lot this summer and out in the sun, I'd never have to take them off! So if you see a woman walking around in swim goggles, you'll know it's me.
Since Mary takes and shares pictures of herself and posts them on her public blog, I feel fairly comfortable sharing this one here –