The kids woke up on a sugar high yesterday after all the Easter candy indulging but for some insane reason

for Easter Monday morning breakfast, I treated everyone to some delicious chocolatey pancakes.
Needless to say, they were more than a little wired all day. They thought it would be fun to wear their Easter pails on their heads.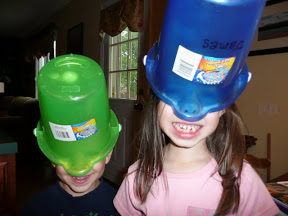 I also finally updated My Recipes page!
Here's the pancake recipe:
Easter Monday Chocolate Chocolate-Chip Dark Chocolate M&M Pancakes
2 eggs
2 cups flour
1 ½-2 cups milk or water
4 TB melted butter
6 tsp baking powder
1 tsp salt
3 TB cocoa powder
Beat egg and milk in an electric mixer on high for 3 minutes. While that mixes, in a separate bowl whisk together the flour, baking powder, salt and cocoa powder.
Mix in the melted butter to the egg/milk mixture when it's done. Add the flour mixture in and throw in about ¼ cup of dark chocolate M&M's and about ¼ cup of chocolate chips (as much or as little as you want) and mix this all on low for about 3-5 seconds and then gently incorporate the rest of the flour and the liquids together by hand with a spatula. Make sure not to mix it too much or it will make the pancake batter too sticky. Add more water to achieve the consistency you prefer for making pancakes.
Grease heated griddle if necessary. Sprinkle some water on the griddle and it's ready when the water drops bubble and frizzle right away. For each pancake, pour about 3 TB or one large scooper-full of batter onto the hot griddle. Cook pancakes on side until puffed and dry around edges and the bubbles on the top have popped. Turn and cook other sides until cooked through, about 1 minute. The trick is not to set the griddle heat too high or the insides won't cook and the outside will just burn.
Eat and enjoy. If this isn't sugary enough for you, try adding whipped cream, drizzle it with maple syrup or chocolate fudge…strawberry syrup…what else?