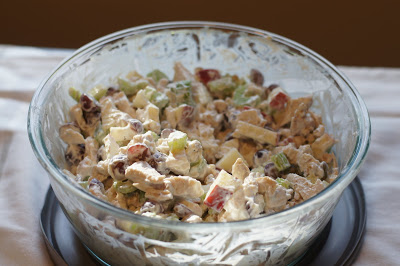 Today, the Tuesday Summer Salad Series by Martha brings you this sweet and creamy Waldorf Chicken Salad. The nuts, fruit, and chicken combined together in this salad will send your taste buds through a thrilling ride of deliciousness. The additional celery adds a nice crispy texture. However, if you are like my husband and his 'mom' (erhem Elizabeth), you might prefer to substitute or eliminate the celery–though it would not be nearly as fun to eat if you do. (I used to hate celery with a passion but now realize the irreplacable value it adds to a meal.)
Here is the recipe (with the celery). I'm not sure where she got the recipe from but I included the intro as it was rather interesting.
Waldorf Chicken Salad
Simple, classic, and easy enough for a busy weeknight meal. This elegant salad was first created at the Waldorf-Astoria Hotel, by Oscar Tschirky, in New York City in the 1890′s. It has since become a chicken salad staple at many restaurants, family picnics and other get-togethers. This is my husband's favorite chicken salad. Eat it as a salad, in a sandwich or a wrap. It is very versatile. Its also prefect to take to a spring or summer picnic. To make this salad more healthy, replace the mayonnaise with plain greek yogurt.
Ingredients
4 boneless skinless chicken breasts

4 ribs of celery, diced

1 apple, diced

1 cup grapes, diced

the juice of 1 lemon

1/4 cup chopped walnuts

1 tablespoon fresh thyme (optional)

1/2-3/4 cup mayonnaise, or plain greek yogurt

kosher salt

pepper

olive oil
Method:
Salt and pepper chicken. Preheat skillet. Drizzle with olive oil. Brown chicken on each side and cook until done.
Combine all other ingredients except mayonnaise in a large bowl. Let chicken cool and chop. Add to salad bowl. Add desired amount of mayonnaise.
Refrigerate until ready to serve.