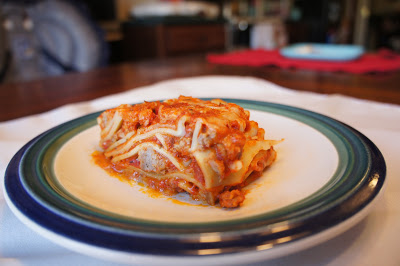 I love Lasagna. I used to love it with cottage cheese filling but my husband didn't care for it so I tried Ricotta cheese instead, which was better but still not something he was particularly fond of. I've made lasagna with 'homemade Ricotta cheese' but I could tell it was still a little much. So the other day I got to thinking about it and thought, "You know what? Who says Lasagna has to have any type of Ricotta/Cottage cheese filling?" Well I'm sure someone says so but I decided I wasn't going to anymore. So I made a regular Lasagna without the thick che ese filling and it tasted great! I didn't realize how much better Lasagna could be! Everyone loved it, especially my husband – mission accomplished!
For the above picture, this is what I did:
Ingredients used:
1 Box of Lasagna noodles
2 Jars of Marinara Sauce
1 1/2 bags of Italian blend cheese
about 1.5 pounds Breakfast (pork) sausage
Method:
1. Brown meat in large skillet, drain.
2. Put meat back into the skillet and add 1 jar of the Marinara sauce and let that simmer together. Add more sauce as desired to the meat sauce or reserve some to pour on top of the whole thing like I did. My husband likes extra sauce so by the end, I ended up using the whole 2 jars of sauce.
3. While meat is cooking, cook noodles according to package directions. (Note: The first time I tried this, I did not pre-cook the noodles and I found them a bit too hard.)
4. Once you have everything cooked, it's time to assemble like you usually would for lasagna except you will not put in any ricotta/cottage cheese. I did, however, sprinkle the Italian cheese blend over the top of the meat sauce on each layer.
5. I baked the above at 375◦ for 30 minutes covered with foil, then another 10 – 15 minutes without foil.
6. Serve, eat, and enjoy!