Today is Tuesday (or at least it was when I started) so for my "Tasty Tuesday" post I thought I'd share some of my favorite authentic Mexican food items since I was just there and most of my trip was about enjoying all the comida riquisima! (luscious food!) If you happened to see any pictures I shared of my trip you might have thought to yourself, "Gee wiz, all she's doing there is eating!" And well, you'd be right. It was wonderful. Of course everyone who has never been or lived in Mexico thinks the only thing Mexicans eat is tortillas and beans and corn. While we do eat a lot of that, it's not the only thing.
~ First off, I'd like to introduce you to Heaven on a Spoon: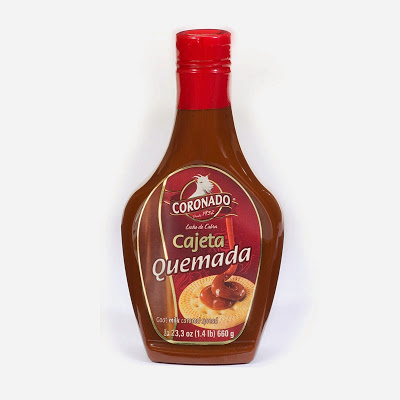 A.K.A – Cajeta (the j makes an "h" sound – ka-he-ta). I fell in love with cajeta as a young child, I'm sure mis tios (my uncles) snuck it to me when my mom wasn't looking. It's kind of like caramel but so much better! Authentic cajeta, otherwise known as dulce de leche (milk candy), is is made from goats milk and loads and loads of sugar! (You think this might be where I first developed my sweet tooth?) If you have time and care, here's a fun blog post I found about the process along with a recipe I might try one of these days.
~ Speaking of cajeta, have you ever heard of or tried Obleas?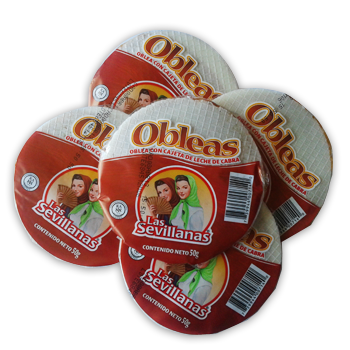 These are basically very thin flour wafers filled with CAJETA! (Can you tell I love anything with cajeta?) You can even buy them on amazon!
When I eat these, it makes me think of two unrelated things.
1 – the Eucharist because the wafers remind me of the hosts (sorry if that is sacrilegious sounding) and,
2 – My great aunt Trini. She was my Abue's sister who at one time lived in the apartments at the bottom of the driveway of my Abue and Abuelito's house. By the time I knew her as a very young child (4/5?) she was (in my eyes) a very old and wrinkly lady. She chain-smoked and literally reeked of smoke and had an accompnaying harsh scratchity voice to go along with it. She was the typical aunt who loved to say hello and give me "fuerte abrazos y besos" (strong – to put it mildly – hugs and kisses with her overly saturated red lipsticked lips). Needless to say, I was terrified of her. However, she had something I wanted. Obleas. I used to think her house was made of obleas and even imagined her sleeping on a bed full of them. She handed them out to "todos los niños" (all the kids). So whenever I really wanted an oblea and had already reached my allowed quota from my mom I knew it was time. Time to gather up my courage and pay a visit to "Tia Trini". I'd sneak away quietly down the driveway and slowly tipoe up to Trini's white apartment door. When I got close enough I had to plug my nose to avoid the overpowering cigarette smoke wafting up at me from the cracks in the door. Then, when I'd mustered up enough courage, I'd knock quickly and loud enough on the door, hold my breath, and wait….CrrrreeeeeaaaaKKK. The door opened, and there she stood – a witch in my child eyes. I let her hug me and kiss me and pinch my cheeks – all the while still trying to hold my breath – until I felt like I had been polite enough that she'd think I really came to visit her and for nothing else. Then, I'd smile sweetly and look at her expectantly. She'd reach into her sleeve and "hundreds" of obleas would spill out from her like candy from a broken piñata. I'd fall to the floor, greedily stuffing as many as I could and swaddle them into my dress skirt, say "gracias" (I hope!) and zip out of there and back up the driveway and up to my room before she could grab me and make me come in and visit longer. Whew. It was a dangerous endeavor but was worth it each time. (Note: I feel badly portraying my aunt in such a scary way but it's how I remember her as a innocent child. I know she was really a very sweet and kind woman and I wish I could have gotten to know her better…while eating obleas together.)
~ Next up in my favorite childhood Mexican food memories is – Helado de Santa Clara – (Ice Cream!)
It's creamy and delicious and they have all sorts of fun flavors including… helado de CAJETA! My padrinos (godparents) owned a Santa Clara store for a while so everytime I visited we got to go there and enjoy our own free samples. My love for this ice cream shop might have more to do my memories of these times than the taste but either way it will forever be my favorite ice cream.
~ And you can't talk about authentic Mexican food without mentioning Pan Dulce (sweet bread or pastries) especially if it's from El Globo!
My favorite pan dulce is the one in the upper right corner – Garibaldis. In looking for how to spell these I found this cool blog for Mexican recipes! Like the Santa Clara ice cream, I think the delicousness of El Globo's pan dulce might be due to my nostalgic memories attached to it more than the actual taste but you'll have to try it for yourself some day and let me know.
~ Ok, let's take a break from the deserts or you'll think that's all I like to eat. Which you'd be right but I guess that's not the only thing I should eat. When visiting last week in Mexico mi tia (my aunt) invited us over for La Comida and served us a beautiful spread of a variety of authentic mexican dishes. Unfortunetly I was so busy chasing around the toddler I didn't get to take any pictures before everyone dug in so I apologize in advance for the not-as-good-as-they-could-have-been photos. She served the staple frijoles (cooked refried black beans), some shredded carne asada (thin shredded steak) with mole (spicy sauce) or some with a different salsa not so piqante (spicy) and, yes, tortillas to load everything into if we wanted. I think my favorite was this: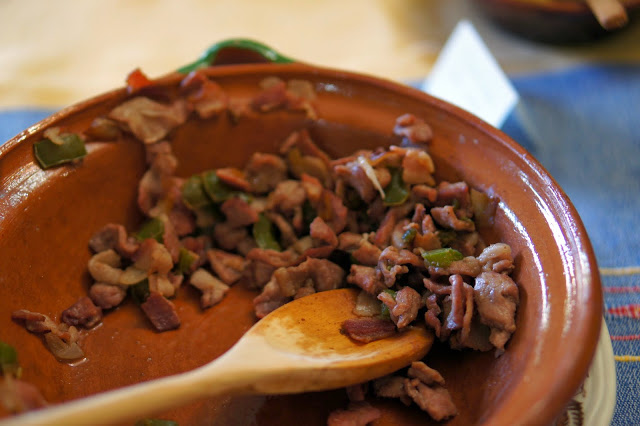 Bistec con tocino, cebolla y napolitos. (Steak with bacon, onions, and "cactus") She also had a bowl of Napolito salad with feta cheese and tomatoes which I at first thought was some sort of green been but Napolitos are actually edible pieces of cactus! Here's a good description and recipe I'd like to try if I can find Napolitos here.
~ I also really liked these papas (potatoes). I have no idea how she made or seasoned them but they were ricisimo! (super delicious)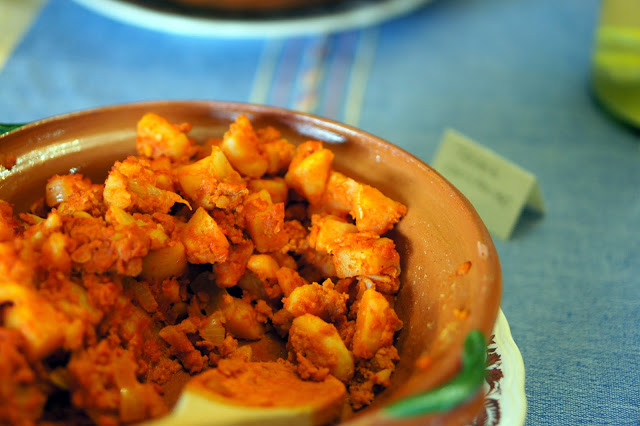 ~ And you can't enjoy a good Mexican meal without some arroz Mexicana (Mexican rice):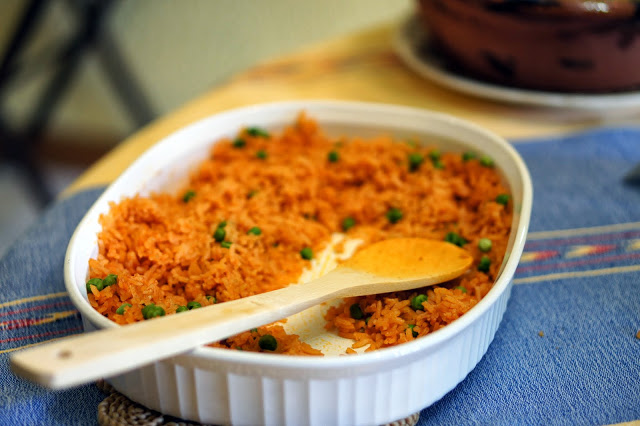 ~ Back to deserts real quick:
Flan: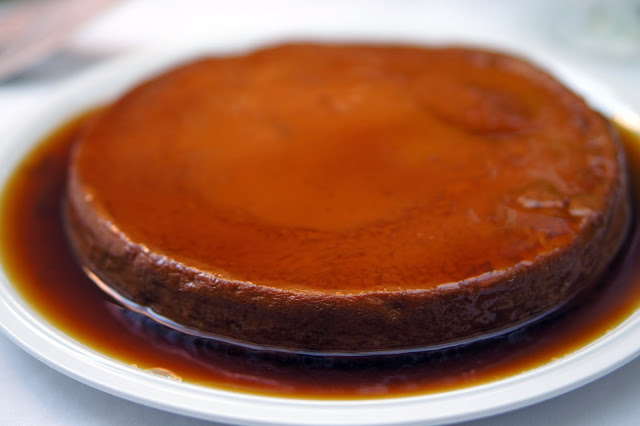 which is made with a whole lot of eggs, sugar, and sweetened condensed milk. I've had flan before but this one my cousin's wife brought was like none I've ever had before.
and ate con queso : (basically fruit gelatin but cooler)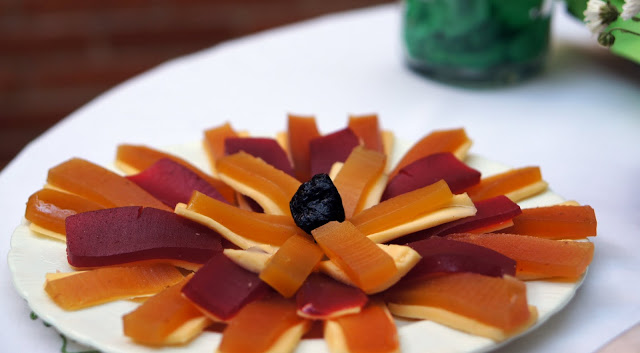 and regular old "jello" – gelatina – with a plum: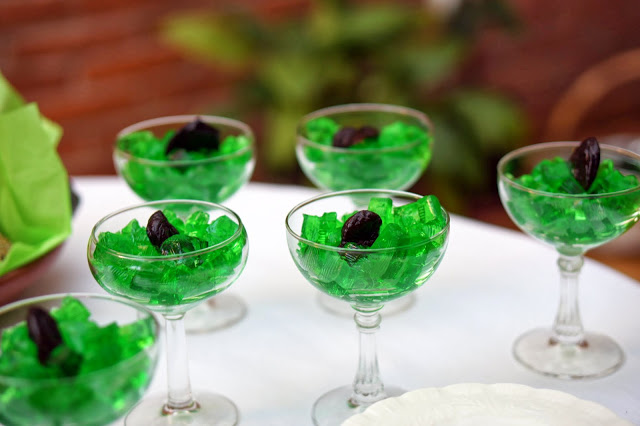 ~ Aside from tortillas and beans, Mexicans also really love huevos (eggs) – which is good because so do I! Oh wait…I guess that is why. Anyway, my favorite breakfast while there last week was this: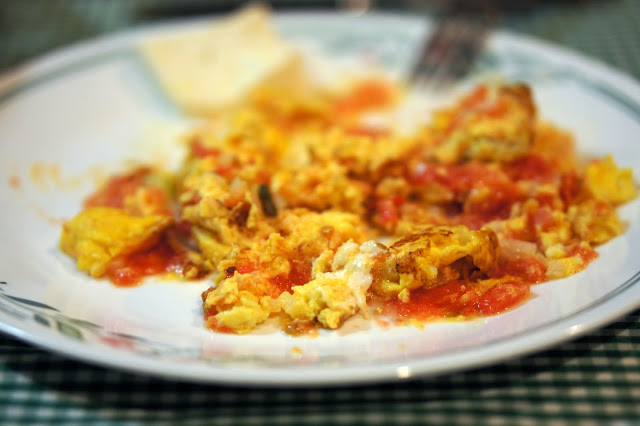 Huevos con jitomate y cebolla. (Scrambled egg with tomatoes and onions). Yuuuummmm! I also really like los chilaquiles con huevo revuelto (which is also my husband's favorite):
Which is scrambled egg with pieces of fried corn tortilla, queso mexicana (Mexican cheese), and salsa verde (green salsa) as shown in the bowl in the upper left corner there. I need to ask my Abue how they made that because it was better than the green salsa here. I think it had green chilis and cilantro. You might also notice the fresh squeezed orange and grapefruit juice and the side of fresh melón (cantaloupe).
~ There is always fresh local fruit and veggies available here for every meal or snack –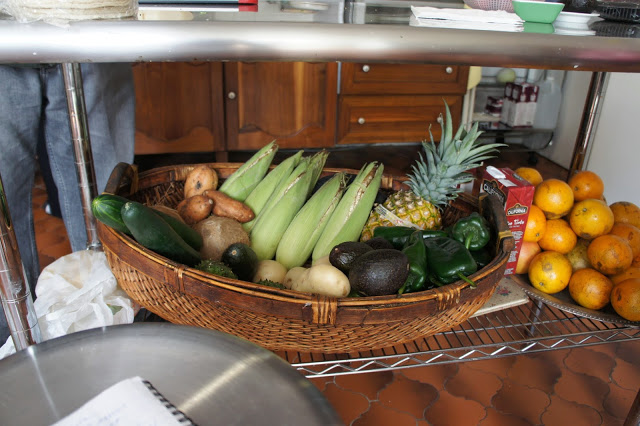 My Abue even has her own orange tree…in a few weeks these babies will be sun-kissed orange and juicy!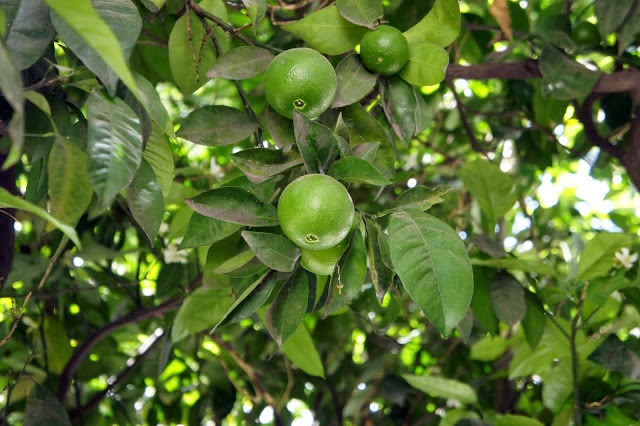 ~ I love La Desayuno (Breakfast). Now I will say we didn't eat like this every breakfast. Sometimes we had some cereal or simply some egg, toast and queso mexicana –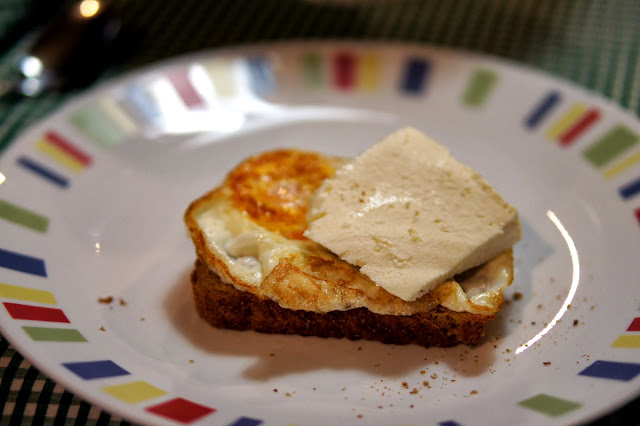 ~ While I'm talking about the different meals there let me explain how their meals work. Traditionally (or at least in my Abue's house when I visit) we eat a simple early breakfast, followed by a larger Desayuna (second breakfast) in the mid-morning. Then, we eat our big"lunch" later around 3 or 4 and this meal is called La Comida. This the "main meal" of the day and is maybe like a "linner" or a "lunchner" as my sister called it. Then, later in the evening, there might be another Cena (dinner) or a lighter Merienda (snack) before bed around 7 or 8 or 9 or 10 or whatever time it is before finally getting to bed.
~ One night I came down after putting the baby to bed and mi Raul had brought home some tamales. They were wrapped in banana leaves: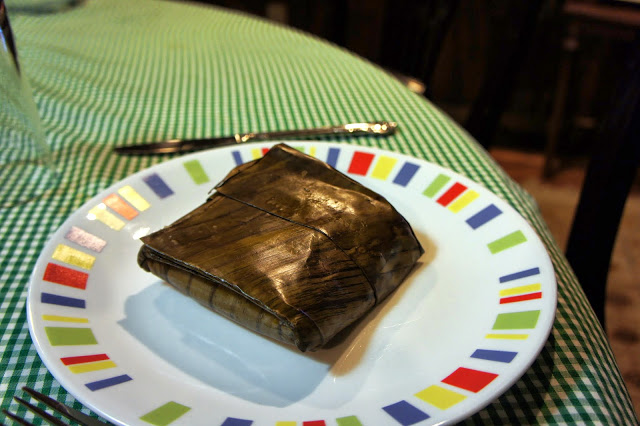 I picked one out and started eating it and suddenly my nose started running and tears forming in my eyes because of how spicy it was! Apparently I had picked the one with salsa verde mas piquante (green spiciest salsa) without knowing there were others ones not as spicy. Oh well, I got through it and it was quite delicious and satisfying.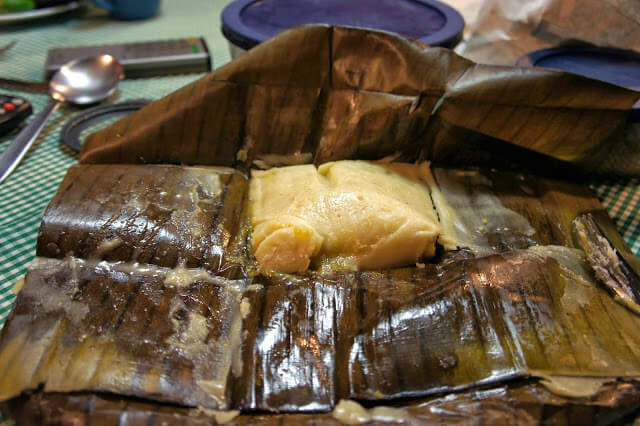 My favorite type of tamale is los tamales rosas or los tamales de dulce. They are pink tamales or also called candy or sweet tamales that typically have raisins or plums or other fruits and extra sugar. Believe it or not, I've never actually made my own tamales but would really like to try it one day and if I do I'll definitely make some tamales de dulce!
~ Ok now if you happen to travel to Mexico, aside from the "typical" tortillas and beans, you can't go far without seeing signs for Tortas! Torta can mean cake in some contexts or other spanish-speaking countries but in this case it is a fancy name for a very fancy sandwich. My cousin took my sister and baby and me to a neighborhood Torta shop and their menu was full of all sorts of options I hadn't ever thought of. Finally I decided on la Torta Milanesa con carne.

It was a thin Steak Milanease with tomatoes, queso, and of course – aguacate (avocado) served between toasted bolillo bread. And for the record, there's no such thing as a torta without avocado. So don't even try. Oh and then I spooned on a liberal helping of the side guacamole for extra measure. MmmmmMMMM, Perfecto!
(Funny side story: Once when visiting there in my childhood summer, mi tia was going to make me and mis primos – cousins – a picnic for our trip to el Zoologico – Zoo. She said she was going to make and pack us some tortas. At that time, I had learned from the school spanish textbooks that torta was cake so I was both confused and excited that we'd be eating cake for lunch! I was slightly disapointed when she pulled out the "sandwiches" until I bit into one my disappointment was quickly replaced with wonderful satisfaction.)
~ I've saved the best for last and in honor of mi Abue. We had a big get together with cousins while there and apparently she is famous for her bacalao so that's what the main course was along with some crunchy green salad and creamy broccoli (my mom's recipe) and, of course, the meal like that wouldn't have been complete without- vino (wine).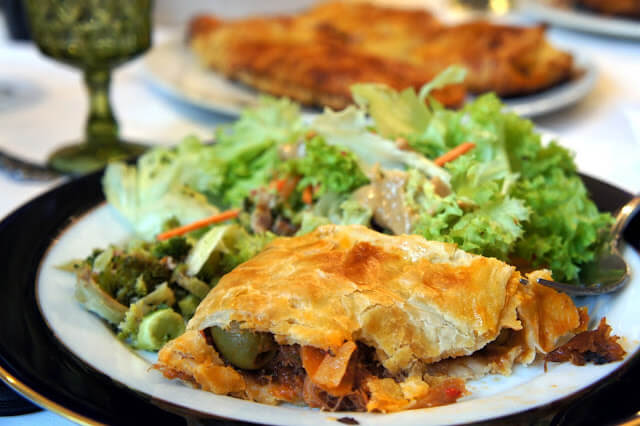 Here's a recipe that is close to how she makes it. From what I gathered in trying to listen – between mouthfuls and chasing the toddler around – to how she and my aunt made it, they dry out the cod the night before to get rid of the salt. Then they mix the dried fish with all sorts of embellishments – tomatoes, chilis, pepperoni, potatoes, and olives. Then they scooped it into some pre-made pastry dough, rolled it up and baked it. I'll need to ask her or my aunt for a more detailed recipe so I can try and duplicate it. It's hard to get a full recipe out of them because their idea of a recipe is "un poquito de esto y otro de esa…" a little bit of that and that. I should have tried to watch more but was too busy walking around with the toddler and making sure he didn't break any of my Abue's beautiful and very breakable heirlooms all around her house.
So there you have it. Now the next time someone says the only thing Mexicans eat is tortillas and beans you can send them to this blog post and remember that the Mexican food palate is that and so, so much richer!