Today is the feast of Our Lady of Guadalupe! Earlier this year, I had the great blessing to take a trip to Mexico City to visit family and the shrine of Our Lady of Guadalupe. It was a truly amazing journey.
I don't know why but for some reason I only wrote a few quick thoughts about it once here. I talked about the delicious authentic Mexican food, just not the miracle. 🙂 It was a wonderful trip and I think I needed to process it for a while before writing about…that and I got very distracted with all the goings on of family life and other such things.
I offered that trip as a mini pilgrimage, asking friends for their prayers and carrying their intentions in my heart and a notebook that I brought with me to the Basilica. I learned a lot from my time there. Most importantly, I learned it's not about the Tilma but about Jesus and His Mercy and desire to continuously offer His salvation to us all.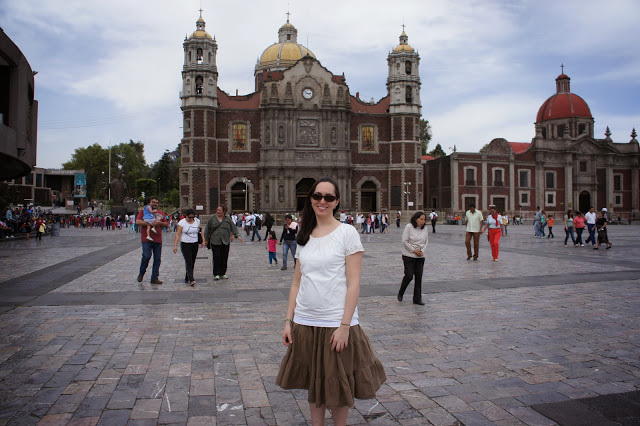 A Mass is celebrated every hour at the Basilica so I offered Mass for everyone in my notebook.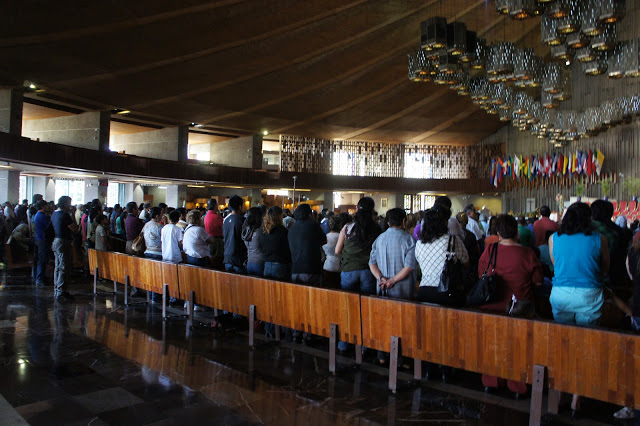 The image of Our Lady is hanging high on a gold-plated wall.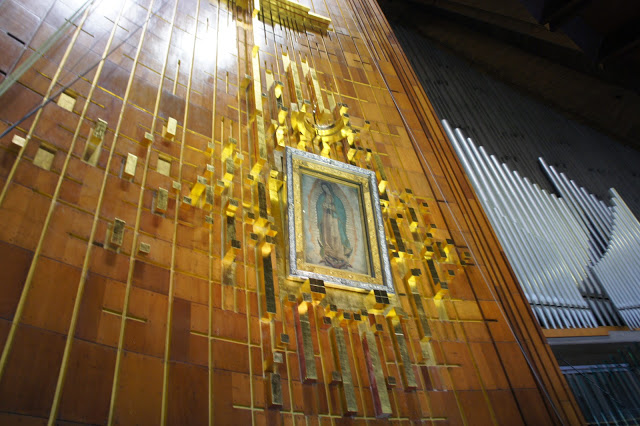 To get there, you go around behind the main church into a sort-of tunnel under the alter, to some moving sidewalks (like in airports).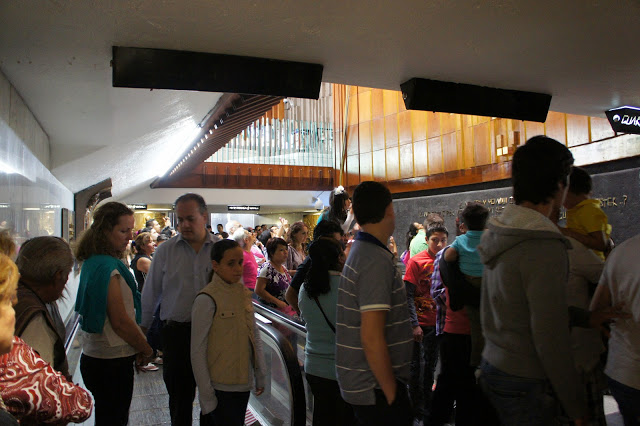 You get on one of the the sidewalks with everyone else and then, you look up,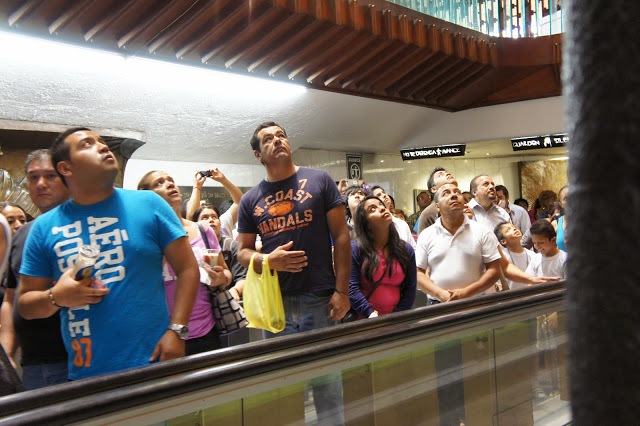 and you see her –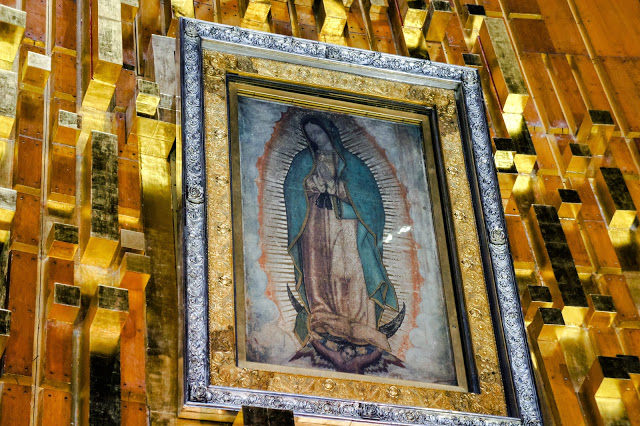 At first it was very crowded since Mass had just let out but after the big crowd died down, it cleared out nicely. I went on the sidewalks, looking up as the belt moved me from one end of the room to the other, cranking my neck so I could see.
While I did this, I went through all the names in my notebook and prayed for each person and for their intentions. I brought their sorrows, their hopes, their struggles, their doubts and I lifted them into her loving arms.
I lost track of how many times I went on those sidewalks, over and over. Looking up, praying, gazing…searching…wondering. Looking for something. Proof? A sign? Maybe a wink or something. 😉 (That would have been creepy actually.)
The image looked so…ordinary. I'd been here once before but this time was different. I've lived more, seen more of life, had more questions, more doubts. The only way I could think of to describe this image is to say that it looked like a big stamp, like a graphic image in a way. definitely not a painting as there are no brush strokes of any kind. It really looks like it was just…set or pressed onto the tilma…like a stamp. You can see creases where it had been folded but other than that, no other major damage or tears or holes of any kind. For something that came from the year 1531, it was in amazing condition.
Aside from the image, the other thing that really struck me was what was around the image. A Church with Mass every hour during the day. Dozens of confessionals all around the back of the church were there was a constant line. And Eucharistic Adoration in a separate chapel, a peaceful alcove behind the main sanctuary.
I didn't see anything "special", no shining light or angelic singing, no eye movements or even a slight turn of her lips. When I came home, I read about all the "proofs" about this miracle and I also read all the "proofs" against it. And I wasn't really sure what to believe. Honestly, I'm still not.
But I do know this. When I was there, I looked around at all of this and thought – Mission Accomplished. Though there are still many who do not understand the real significance of Our Lady's image – myself included – the Sacraments are present. His Mercy and Grace are constantly available to all who come .
People flock to see the image for various reasons and when they come, if their hearts are open, they receive our Mother's loving and comforting embrace and God's Grace through His Sacraments. And this is why she came. This is why He sent her.
The miracle of Our Lady's image on the Tilma started it, but that's not what the real point was and it still isn't. It's not about the Tilma. It's about Jesus. It always has been, always will be.
There's so much more to this story than I can tell you in one blog post, or that you could read in one setting.
You can read more about the history of Our Lady of Guadalupe at Catholic Online
You can read more about the the deeper technical and scientific findings about the image here.
Here's a good visual of some of those:
"Do not let your heart be troubled; let nothing upset you. Am I not here, I, who am your Mother?" #OurLadyOfGuadalupe pic.twitter.com/aVnFwAKcPq

— Phoenix Diocese (@PhoenixDiocese) December 12, 2014
And this article – ST. JUAN DIEGO'S MIRACULOUS PROOF – is also very interesting.
So for this to be a forgery, the forger would have had to not only be a masterful artist, painting something so beautiful on hemp (instead of campus), but also be well-versed in Scripture, Aztec culture and symbology, Mexican topography (and not just the area around Guadalupe, but all of central Mexico), astronomy, and Spanish religious devotions. Or we can just accept that this is plainly miraculous, and an event which led to the salvation of millions of souls, those very souls which seemed most lost to satanic forces. At some level, "skepticism" simply requires a level of incredulity that belief doesn't.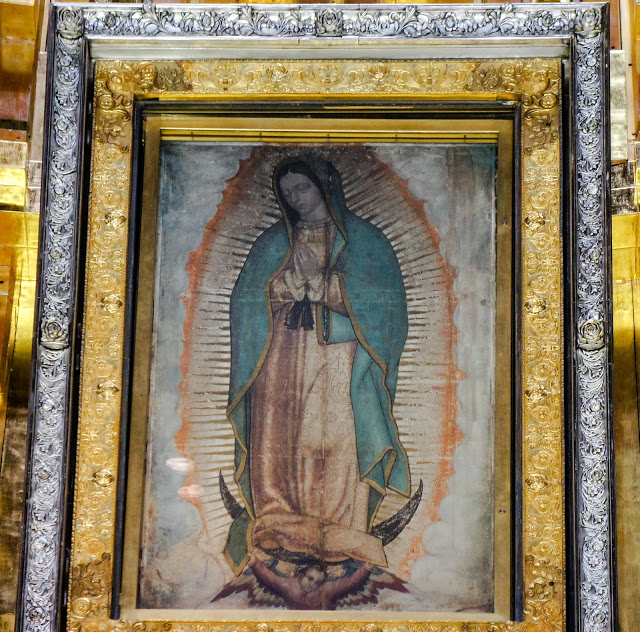 My dear little son, I love you. I desire you to know who I am. I am the ever-virgin Mary, Mother of the true God who gives life and maintains its existence. He created all things. He is in all places. He is Lord of Heaven and Earth. I desire a church in this place where your people may experience my compassion. All those who sincerely ask my help in their work and in their sorrows will know my Mother's Heart in this place. Here I will see their tears; I will console them and they will be at peace.