Earlier this year I read Love the Home You Have: Simple Ways to…Embrace Your Style *Get Organized *Delight in Where You Are
by Melissa Michaels
from The Inspired Home blog.

I really enjoyed reading Melissa's book and recommend it to anyone who drives around daydreaming about living in other people's homes and wishing their home was like those ones. Most of us do have those homes, we're just too busy comparing our homes to what we see in magazines and Pinterest boards to know it. Melissa encourages homeowners to embrace at what you do like in your home and either get rid of what you don't like or work around it.
Melissa shared a little of her own story for how she stopped "settling" for the home they lived in and came to really love where she was, even if it wasn't her "dream home". I love all her cute sayings and graphics in the book as well as her simple and transformative ideas for sprucing up a space in your house without too much effort or cash. She even includes tips on how to organize your home and your life so you can enjoy living in your home with your family. I love all her tips for decorating and decluttering.
I'm incredibly thankful for our home but there are things that I'd like to change/update about it. I've never really liked the way our family/kitchen room area looks, I felt like it was someone else's style but never really me. To me, it looked like I had just thrown a bunch of our things onto the walls and shelves and hoped it would look good. But it was too cluttered and lacked order.
Inspired by Melissa's invitation to "love the home I have" I decided I didn't need to spend loads of money or knock any walls down to update what we already have and make our space reflect my real style better.
I wanted something simpler, less cluttered, quasi-minimalist yet still "homey" and family-friendly. I loved the way the blue in the guest bathroom turned out so much I decided to extend that look throughout the rest of the house.
I asked my dear friend, Kandace, who is amazingly talented with all things crafty and home decor, if she'd help me update these rooms a little. Throughout the summer Kandace sent me all kinds of ideas and let me annoy her with constant texts and emails with pictures of what I liked/didn't like. I'd text her when shopping to see what she thought and she came over and helped me rearrange all our "stuff" to make it look like more than just things on the wall.
This isn't a "before" and "after" post though because for the life of me I can not find the before pictures I know I took. So we'll just call this the "after" post. This update took place over a few months. I tried my best to work with what we already had and if I did buy something new, I made sure it was something that I would actually use and like.
I'm very pleased with how it all turned out, thank you Kandace!
The Family Room:
For our family room built-in bookcases, imagine the color of the dark wood also all along the back of the bookcases and fireplace area. The wood is beautiful however, it's dark. Very dark. And there is only one window in that room so it felt dark and gloomy all the time. And that puts me in a bad mood.
I wasn't ready to paint the wood – that's a serious irreversible commitment I wasn't willing to make for now. So I improvised and, thanks to the inspiration of Pinterest, I came up with this –
Sooo much brighter and lighter! I'm very happy with the way adding the canvas fabric with the oil-rubbed bronze upholstery tacks brightened up that back wall area. Kandace waved her wand around and rearranged our special items on the shelves so it wasn't cluttered but still showcased what's special to us. I love how simple and light it looks now.
In the future, I'd like to either paint or change the green tiles to something lighter or maybe even replace that whole area with stone veneer.
We added that canvas print of one of my husband's awesome photographs but then changed it to this one.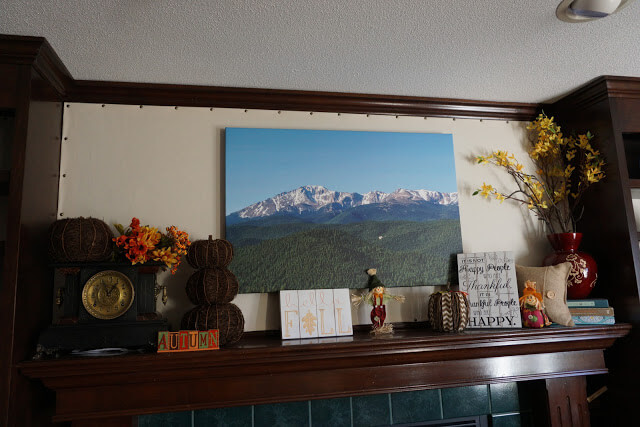 Aside from lightening up the family room, I've also been yearning to replace the red/green/gold color scheme with the blues that I love so much. Rather than painting anything – for now – I opted to add in my blues with accents.
Target heard my thoughts and provided the perfect color and design I had in mind for accent pillows: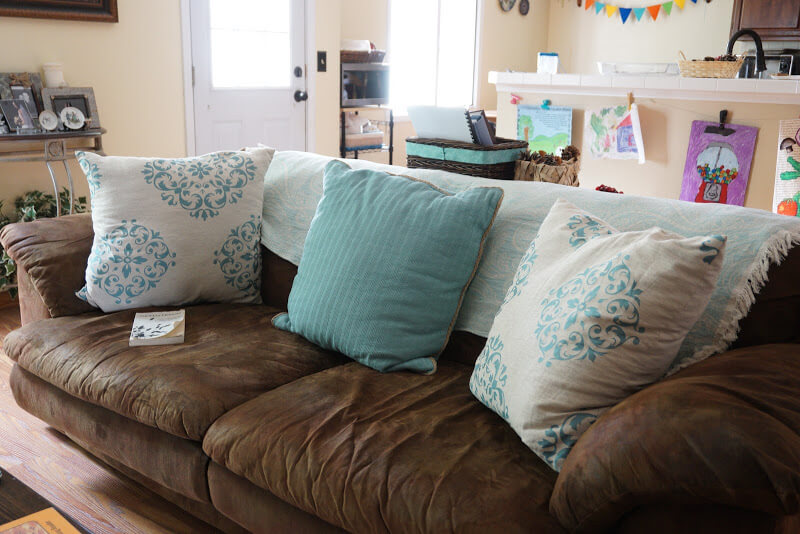 I found the throw for the back of the couch at a store called Tuesday Mornings – not sure if it's only a local store or nationwide? It's a cute store with unique odds and ends that make my heart skip a beat whenever I walk through the aisles.
I mentioned how I'd like to add a coffee table in the room to my super crafty and generous friend, Mary, and she refinished this table for me!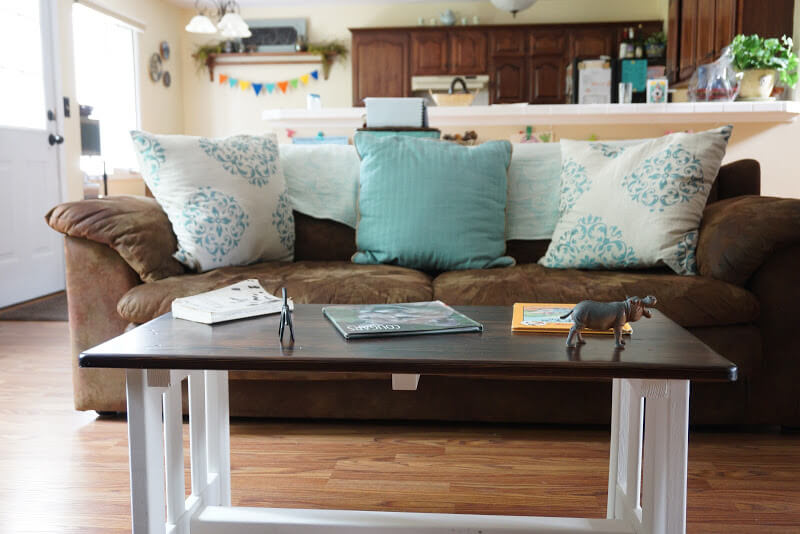 Thank you, my dear friend! And thanks for putting up with my pickiness. As you can see, the kids are adding their own "distressed" patterns with their toys.
I also added some pretty blue ribbon to my baskets that go well with the pillow design: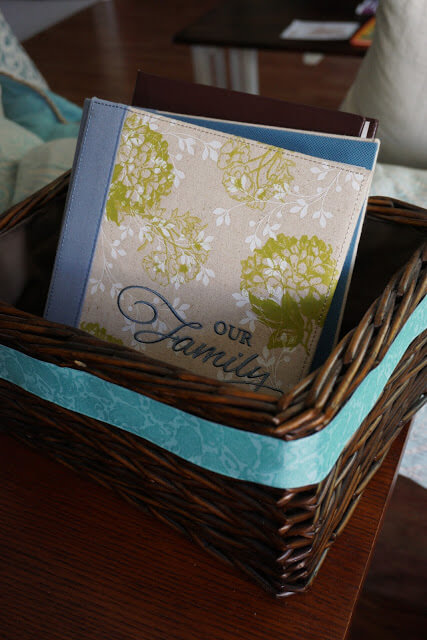 I spruced up the entry-way hallway that leads to the family room by finally adding some real decorations instead of the random children's art I had stuck on the walls with sticky putty.
Again, I found the perfect items I was looking for at Tuesday Mornings –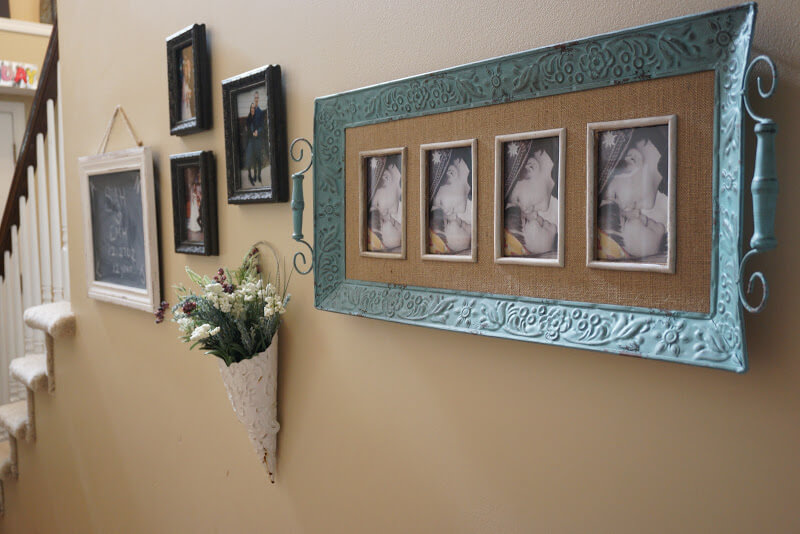 I had the 3 wedding picture frames there so I worked around those and added the chalkboard frame with our initials and Wedding Date "12 years…" almost 13! Eventually, I'll put in pictures of our own kids instead of the sample ones. I changed the Spring/Summer flowers for my Fall hanging cornucopia and will probably switch that out for something Christmas-y next month. (Can you believe it's that time already?!)
For the kitchen:
Oh our kitchen. It looked sooo big when we first looked at the house and only had 2 children. It's amazing how a room can shrink when you add a couple more people, friends, family and other guests.
This is one of my favorite rooms in the house, it's where we spend most of our family time together and where we get to welcome family and friends. Since we spend so much of our time in here, I'd like to knock that wall out and extend it out to make the dining area larger and add a better separation from the cooking area.
Until then, I'm trying to work with what we've got. I turned the table around and it did open up the area more so it'll work for now.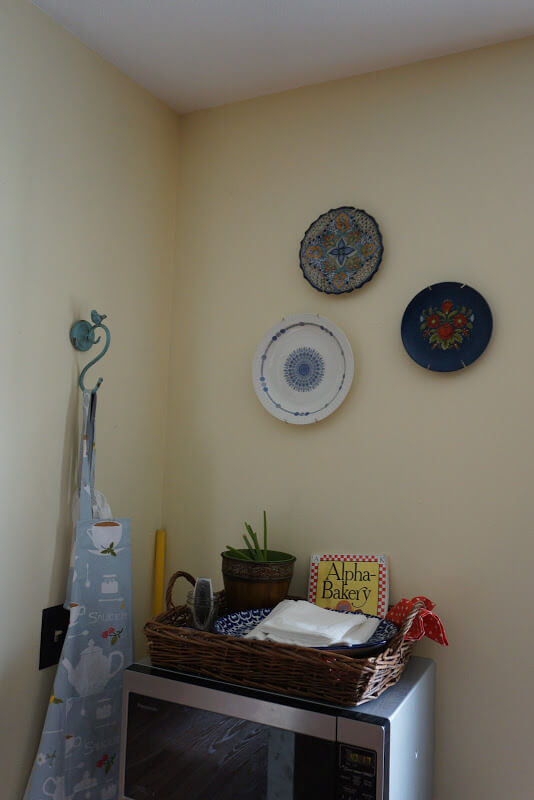 My friend, Mary helped me again (isn't she great?!) to hang the decorative plates up along the back wall. Before that, all of them were hanging together on the other wall under the shelf and it was too cluttered. I like how separating them out on either side of the window uncluttered the area while still allowing me to display the plates that hold special memories for us.
Oh and don't you love the pretty blue birdy hook for my apron? It's the small things that bring me joy.
Again, my friend Kandace – decorator extraordinaire – added her magic to the area above the cabinets. I had way too much "stuff" up there so we downsized to make for a much simpler look.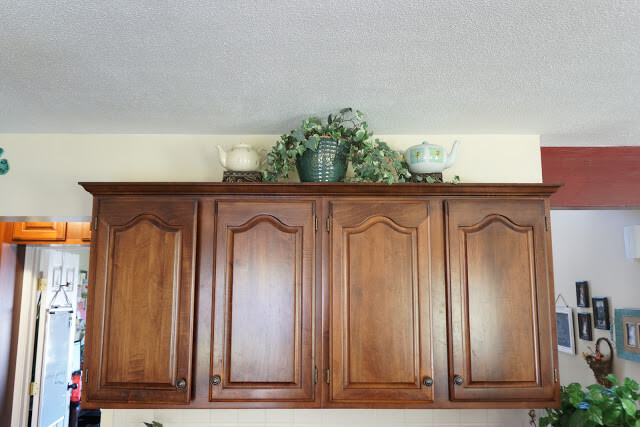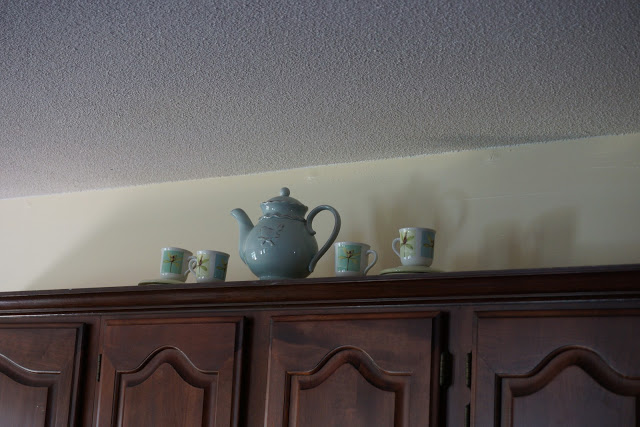 All in all, I feel like we accomplished the look for a simpler and cleaner look while adding in my favorite blues and keeping the items that are special to us out.
Now, if only I could figure out a better, more minimalist, solution for school fridge papers…any ideas?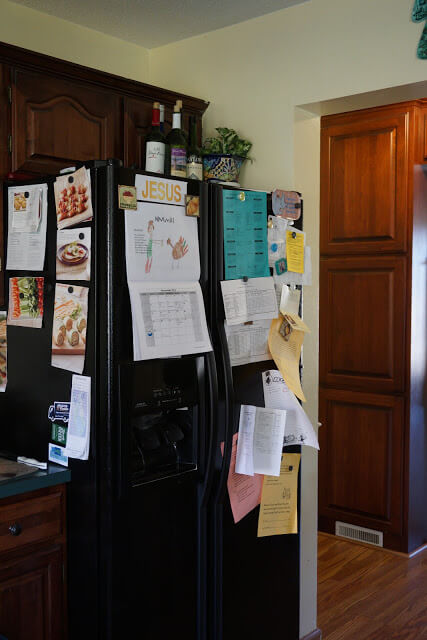 Hope you enjoyed update tour if you made it this far!
{Amazon Affiliate links included in this post}