Continuing on with my "Pilgrimage" story….
After a night's stay in Flagstaff – a place I'd like to come back and see more of one day – my brother and I finished up our complimentary continental breakfast, smuggled out some extra bagels and fruit for later, and then headed out just after sunrise towards our next destination – Santa Fe, New Mexico.
As we drove out of Flagstaff on Interstate 40 the sun groggily stretched over the surrounding bluffs; it's smooth rays, like running yolk from a cracked egg, spilled over the distant mountains and filled the valley.
We continued driving through beautiful terrain and mountain regions in the distance and lots and lots of trees on either side of us. Apparently, "Flagstaff lies near the southwestern edge of the Colorado Plateau, along the western side of the largest contiguous Ponderosa Pine forest in the continental United States. [7] Flagstaff is located adjacent to Mount Elden, just south of the San Francisco Peaks, the highest mountain range in the state of Arizona. Humphreys Peak, the highest point in Arizona at 12,633 feet (3,851 m), is located about 10 miles (16 km) north of Flagstaff in Kachina Peaks Wilderness." (Thank you, Wikipedia)
My brother asked if we could start the drive off with a Rosary this time instead of launching right back into the beguiling plot of our audio book, The Einstein Prophecy.
I love that we can share our beautiful love for Jesus and Mary and the traditions of our Catholic Faith together. We prayed for our family, our friends, for those suffering throughout the world and for those most in need of God's unfathomable and endless Mercy. Of course we also prayed for the repose of our dad's soul, asking that he may be completely united and resting in God's Love and Mercy. Appropriately, as we were reminded later in the day by a kind and thoughtful friend, this was February 20th, two months after my dad's passing from our world into God's Realm.
While we were praying, we passed by a few signs for Meteor Crater, also known as Barringer Crater (after the guy who figured out it was a meteorite crater).
My husband, the Space Nerd (which I say lovingly of course), was very excited that we were so close to it when I texted him to tell him we were going to pass by it. He looked it up on the map back at home and texted me saying, "It's only 6 miles from the Interstate…"
I was slightly interested but my brother proclaimed it as a "Tourist Trap" immediately. My brother and I looked at each other a little unsure but then figured we'd go check it out since it was "only 6 miles away" to satisfy my husband's nerdiness. 😉
We took the exit and followed the very nerdy signs along the way, making sure not to run over any random cattle crossing and keeping our eyes open for signs of a huge hole in the ground. About halfway in, my husband sent another text. "It's $18 to get in."
Oh. Drat
We looked at each other and shrugged, we were already almost there, might as well see what it's like. Once we arrived at the Meteor Crater Visitor Center we knew the only way we'd get to see it would be through the $18 admission tourist trap, er I mean, newly refurbished Visitor Center at the top of a hill that blocked any other view into the crater.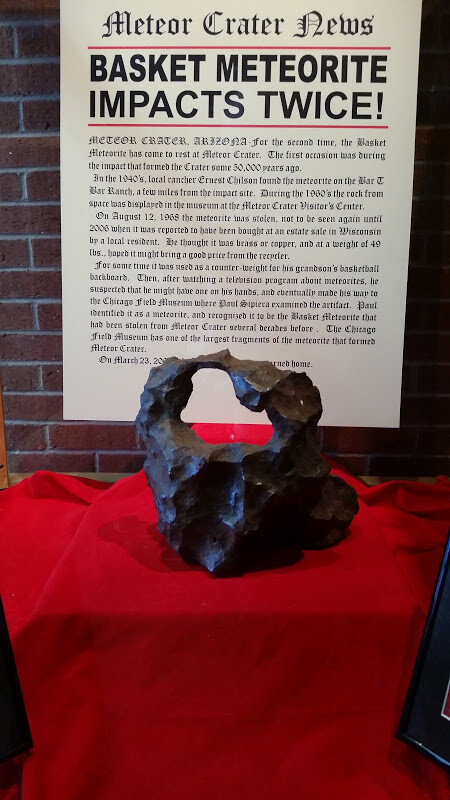 Before seeing the crater, we saw the meteorite that zoomed in from space at around 26,000 miles per hour before impact with the earth's surface creating the 3,900 ft in diameter and about 570 ft deep crater in what is now Arizona's desert. (Thanks again Wikipedia). If you can enlarge that picture of the meteorite and read the description it's a pretty interesting story of where that little meteorite has been. Can you imagine finding out the piece of rock you'd been using as a counterweight for your grandson's basketball backboard was actually an object from outer space?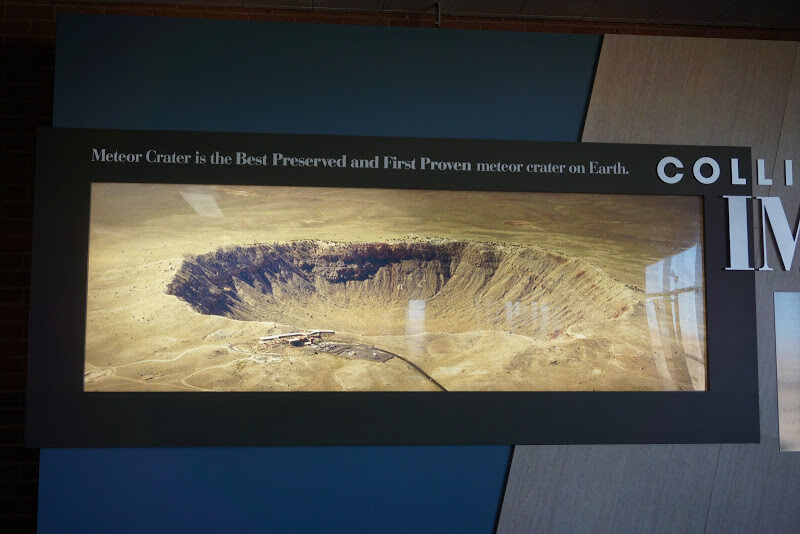 I'd seen pictures of the crater from above, which are very impressive, so I was slightly curious what it would look like from the ground…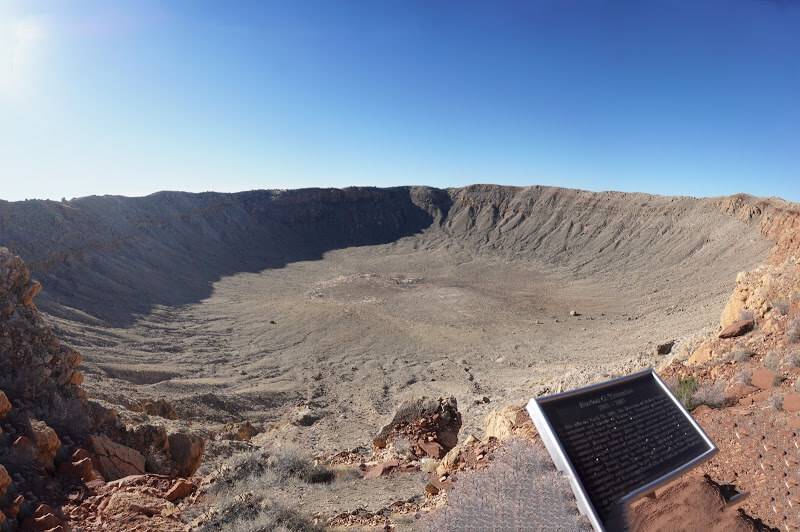 Oh. It looks like….a big hole in the ground. Cool.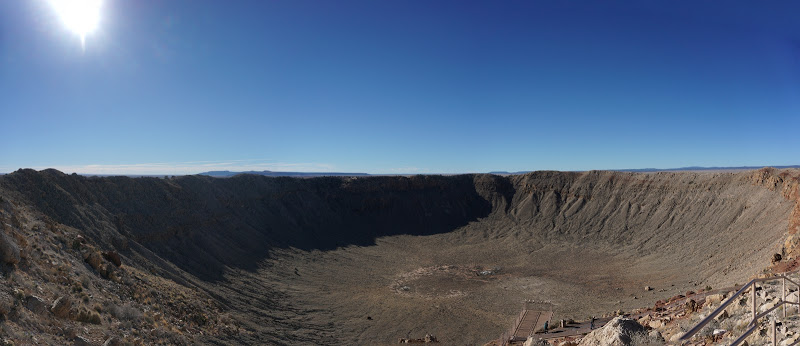 Ok, so at first I have to admit I wasn't super impressed. (Sorry science nerds). I mean I had just been to the Grand Canyon the day before so this wasn't quite on the same level of awesome things I've seen.
My brother and I split up and he went up and I went down to get a closer look. At first, when you're standing there looking at it, it doesn't seem as deep as it is. I was shocked when I looked through one of the fixed telescopes and saw there were actual objects way down there.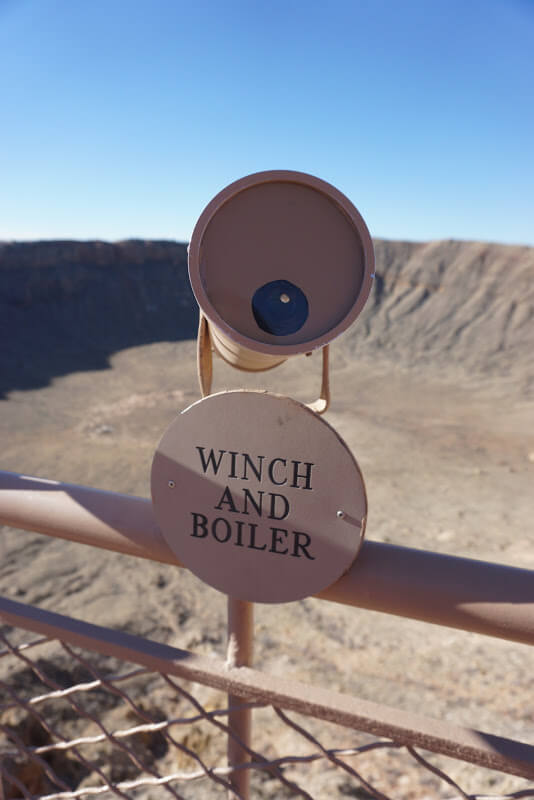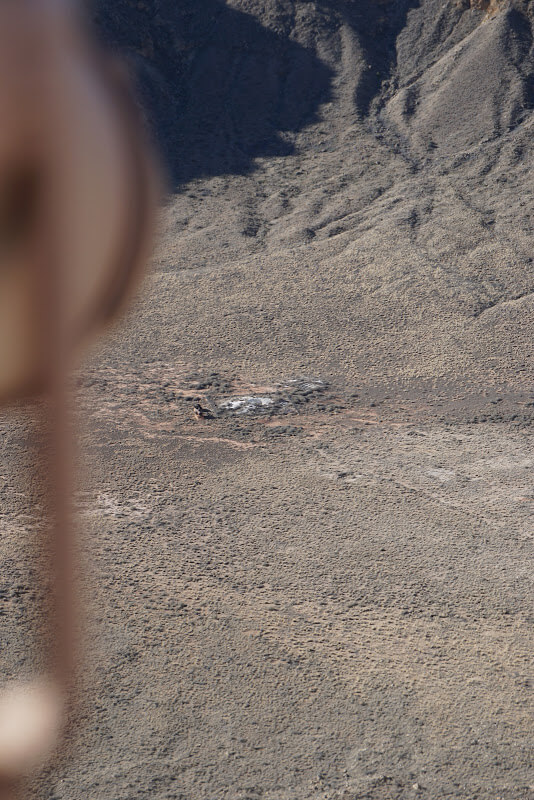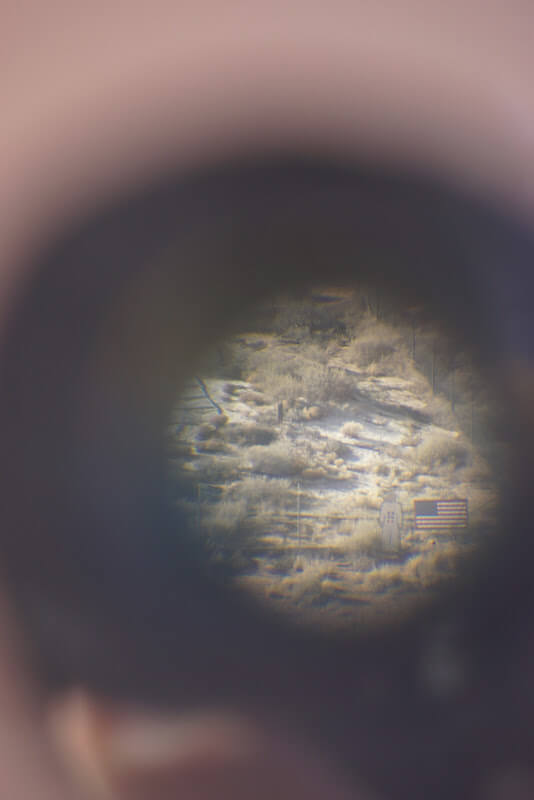 After looking through those scopes I was a bit more impressed.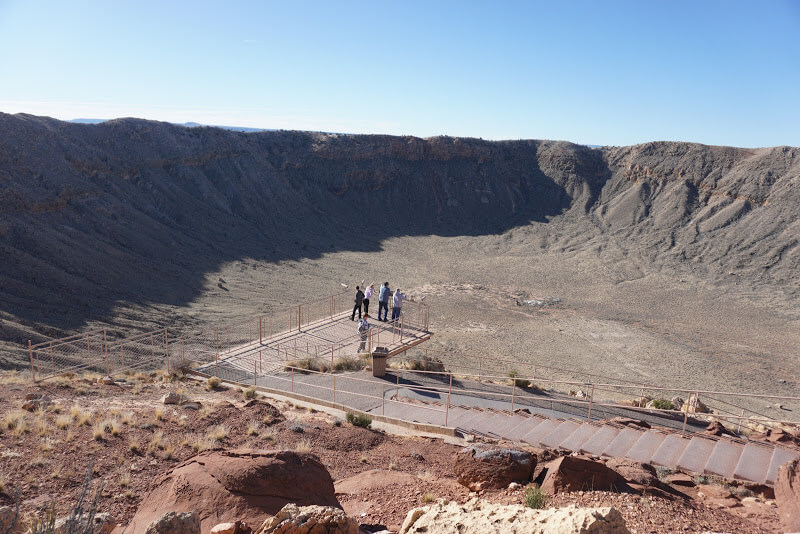 At one point, I was all alone, staring down into this gigantic crater and no one else was around at all. It was completely quiet, no noise at all aside from the occasional sound of a chirping unknown bird hiding somewhere nearby. Suddenly, the silence gripped me and rang loudly in my ears, it was nearly deafening.
The silence and solitude offered me time to take it all in and really think about what I was looking at. A hole in the ground made over 50,000 years ago by the impact of a hunk of metal flying in from outer space. Now that is something.
The metaphor was obvious. Like the earth I live on, my own "world" had also been impacted by an unexpected life-changing "meteorite" that left a gigantic crater in my heart upon impact.
Like all the clichés, when I saw the word "cancer" on the text from my mom about my dad back in November, it felt like someone had literally punched me and knocked the wind out of me – or like a out-of-this-world meteoroid intruding into my orbit, crashing through my comfortable reality, and leaving a permanent hole in my heart. Like the earth's surface, my life has been forever changed after the death of my father.
I can't make life be the same as it was before, it has left a profound mark on my soul that will never completely "go away". The thing is, I'm not sure I really want this scar – this crater – to go away.
You see, there's a certain unexplained beauty in erosion – even when it feels like our whole world is falling apart. Like I reflected last summer (before I knew what was to come) while standing on the top of one of the sand dunes of the Great Sand Dunes National Park just a few miles north of where that crater is –
One beauty of nature replace[s]…another.

I guess it just goes to show that even the world as we know it now will pass away and erode by the natural forces of the constantly changing world. We can't see it now but over time, something new and beautiful in it's own way will develop once again.
And, like the Great Sand Dunes, the Grand Canyon, and yes – even this "hole in the ground" – we all have our own erosion, canyons, and craters on our bodies and in our souls that will remain forever to remind us of what we were, what we've experienced, and how far we've come despite it all.
It stings, our hearts cry out in pain upon impact while we struggle with the growing pains of life's changes, but I guess we become stronger too. If we adapt with what comes at us we allow God to mold us and lead us on a new path, even if it's not the one we had planned to follow. By accepting and trusting God's Will in everything that happens to us, we'll find the path leads to something even better than the one we were on before.
While we are in the crater of grief and sorrow, we can't see the whole picture…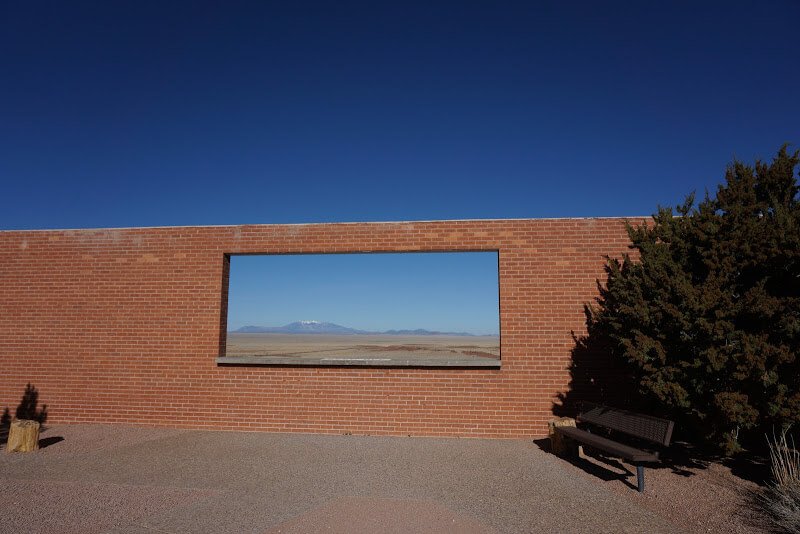 but as we get closer, the view becomes clearer.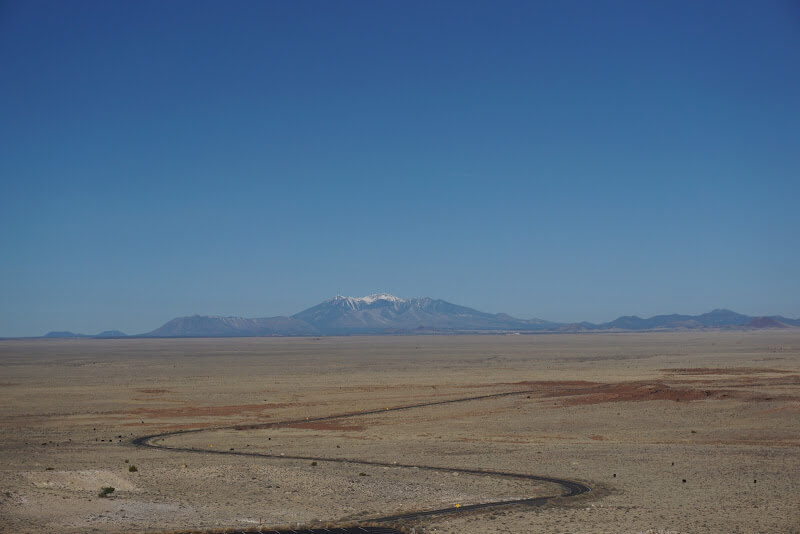 For I know the plans that I have for you,' declares the LORD, 'plans for welfare and not for calamity to give you a future and a hope. (Jeremiah 29:11)