Continuing with my mini "pilgrimage" across the southwestern United States…
After a lovely day touring LA, we woke up before the sun on Friday morning and packed up the rest of my brother's belongings into the back seat of his 4-door car (good thing I packed light!), we started our journey from LA to the Grand Canyon.
My brother's apartment was close to the the Playa Del Rey beach so we took a teeny detour so we could drive along the shore road before heading East out of the city. The early morning waves performed a rhythmic dance and whispered a quiet farewell song as we bid the ocean one last adieu. (I had to restrain myself from telling him to stop the car so I could run down and dip my feet in it . I pretended I did instead.)
Thankfully it didn't take long to get out of the city, probably because we were headed out instead of in and, because there were two travelers, we got to use the carpool lane! We started listening to The Einstein Prophecy, the audio book we'd downloaded from Audible (click here for a free trial)
, as we drove out of LA through some beautiful mountain and valley areas and then cut through the dry Mojave Desert area and right into Arizona.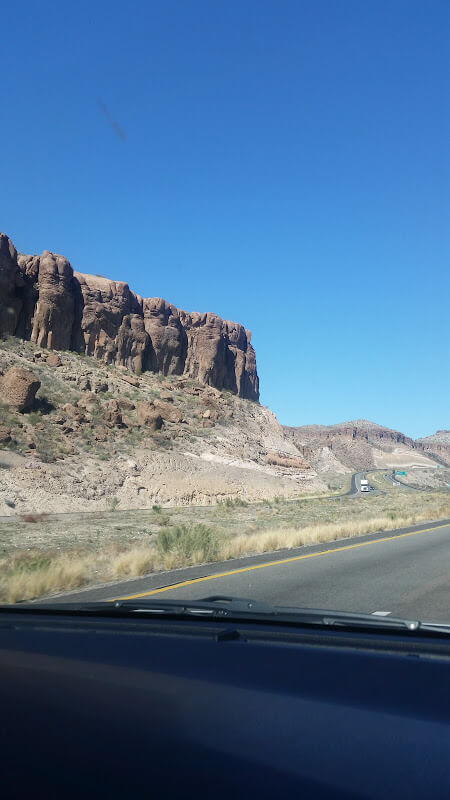 Driving through the dessert was interesting – I certainly would not want to get stuck out there alone. We were now far from the soothing ocean waves with no signs of any large bodies of water for miles. After a few hours we traded drivers and I listened to the Family Physics episode on This American Life (It was interesting enough but I wouldn't necessarily recommend it) while I drove the rest of the way in the afternoon. I can now say, "I drove to the Grand Canyon." 🙂
As we turned onto the Grand Canyon highway, I was surprised to see how wooded it was – not deserty as I had imagined.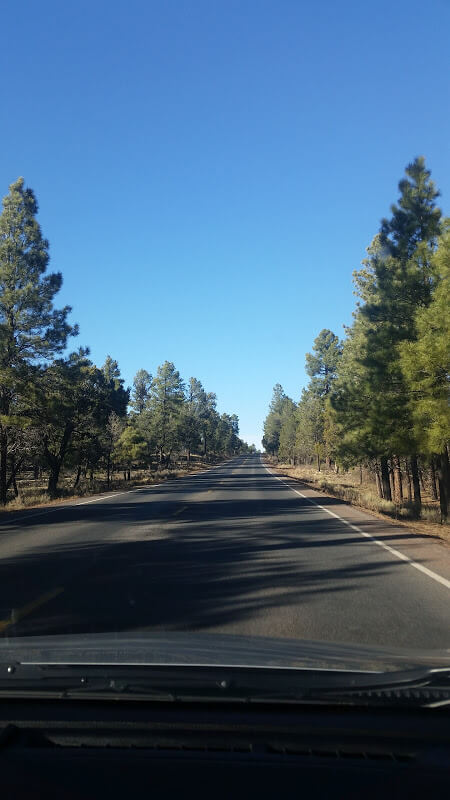 We finally arrived at The Grand Canyon Visitor Center and walked along the sidewalk path up to Canyon. The area still looked more like Colorado and it was hard to believe the Grand Canyon could be anywhere close. But as the path continued and got closer I heard the sound of loud wind – much like the sound of waves from the ocean we had left behind just that morning.
And then the path ascended just slightly, the trees parted, and there, stretching out for miles and miles – there it was.

A deep silence filled my soul as I gazed over the vastness stretched out in front of me. Of course I have known about the Grand Canyon for all my life but I hadn't really expected I would ever see it in real life. So seeing it there, right in front of my very eyes, was like looking into a mirage. Surreal.
Now, for most people, coming to see the Grand Canyon, or even to hike in it would be a pretty awesome experience. For me, standing there in front of this geological wonder, held a deeper significance.
All of my life, as much as I can remember, my dad talked about visiting the Grand Canyon. It was a life-long dream of his to see it. Being an English-man, he'd dream of hopping on the Amtrak train and heading West and the maybe he'd rent a car – or ride a donkey knowing him and funny sense of imagination – until he reached it. My dad and our family traveled to many great places throughout his own life and our family life but the we never quite made it to the Canyon.
Until last summer when he accompanied the same brother to California and they made sure to make time for a stop at the Grand Canyon. At the same time they were there, my husband and our family were traveling also in Colorado when my dad sent us a text message with a picture of him at the Grand Canyon.
Long at last, he was there. I remember looking at the picture of him there. He was so happy to finally be there and for some unexplained reason (at the time) I teared up. My heart suddenly filled with a mixture of happiness for him, mixed with an edge of sadness I couldn't quite place. Then, strangely, a thought came to my mind – "Now, he can die in peace knowing he finally got to see the Grand Canyon." The strange thought zipped out as quickly as it had come and I waved it off wondering why I would even think that.
God knew. And even then, He was preparing me for what would be fulfilled in the few months after that.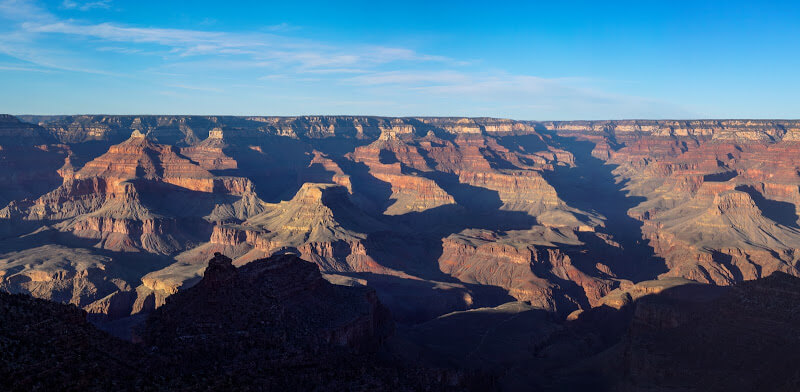 So, as I stood there and as we walked along the Canyon path, stopping to take it all in, I knew I was walking along the same path my dad had taken not even a year before. I wondered,
Dad, what did you think when you saw the Canyon stretched out before you like this? How did you feel?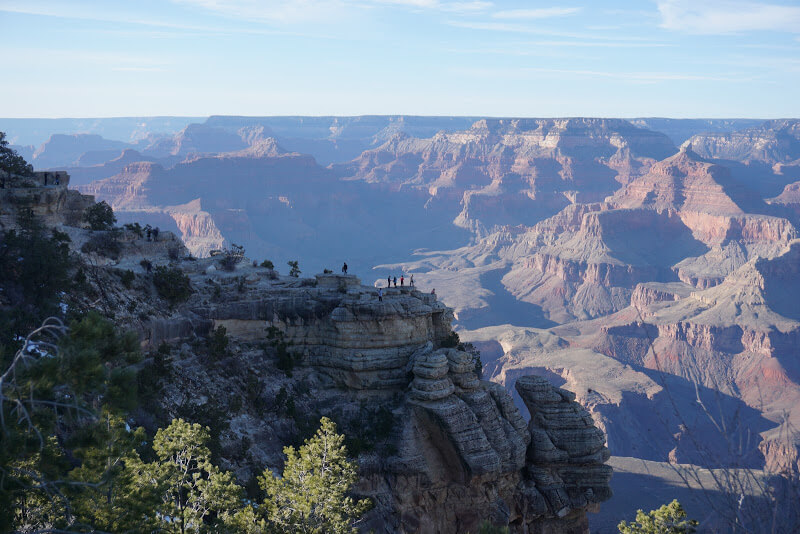 Small.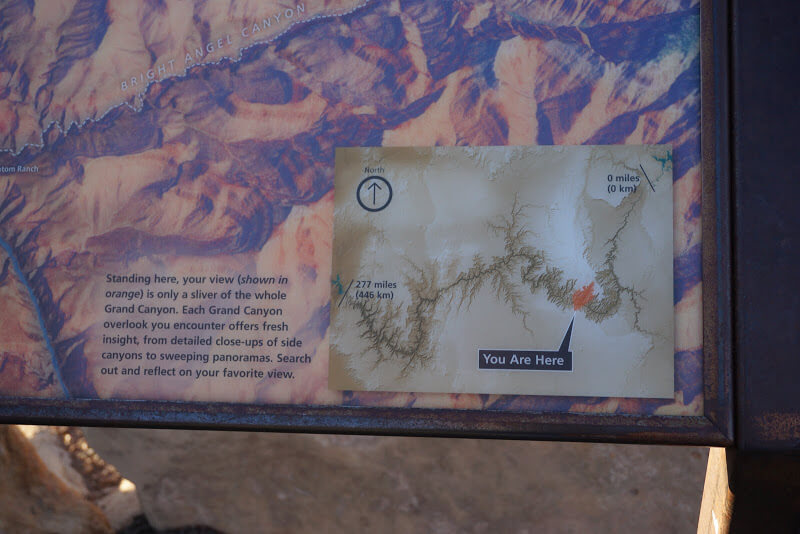 We all think we are so big. Our problems and struggles, our work and accomplishments, our existence.
Flying over the mountains and desert on my way to LA, everything looked tiny. Now, standing in one fractional sliver of the total area of the Canyon, I felt smaller than a seed.
Yet…not insignificant.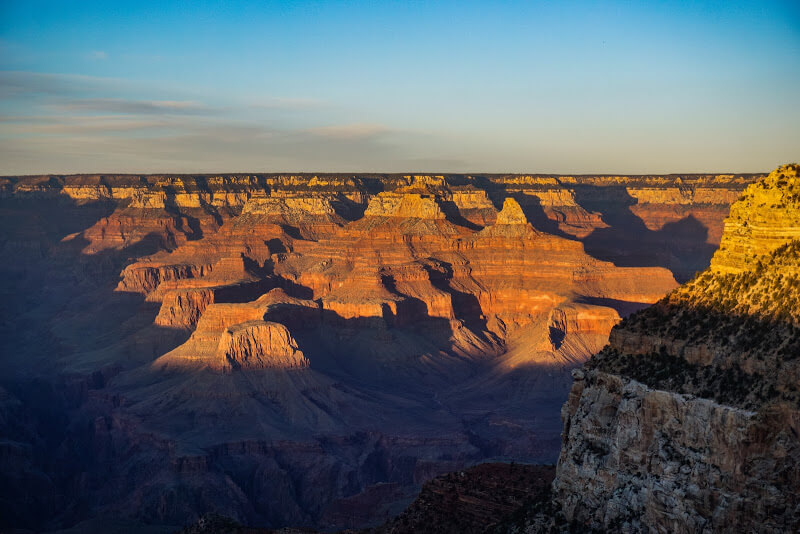 We stayed and walked along the path as the lazy afternoon sun slowly slumped lower behind the canyon rim, dragging the last of its golden rays over the canyon as it went.
I think I know now a little of how he must have felt there, what he might have thought. Thoughts without words.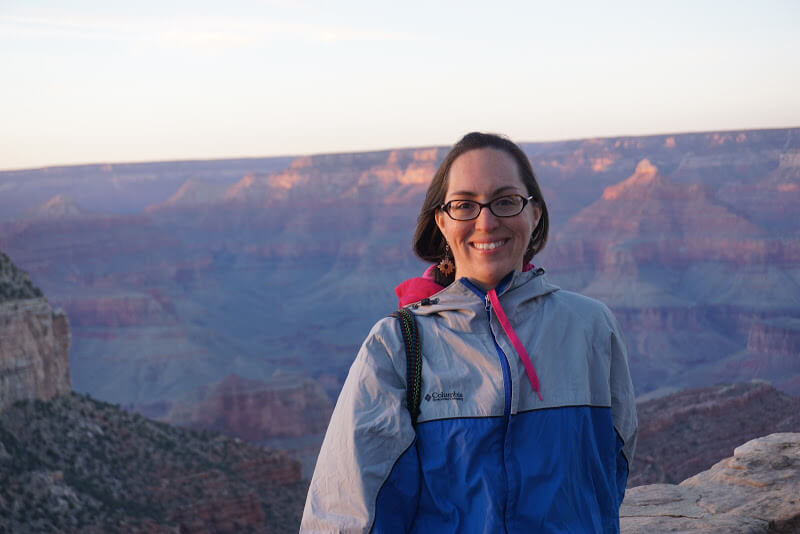 I was inexplicably thankful I could stand where he stood, walked where he walked. That my eyes could imbibe of the same magnificent view his had, inebriated in Glory.
We stayed just until a soft purply-pink hue gently brushed across the sky and the last of the sun's rays kissed the tips of the canyon tops goodnight before blanketing the canyon in shadow.
As we left, I whispered one last prayer over the canyon, scattering a part of my dad's memory over the great abyss and carrying the rest with me.
Dad, I miss you so much. But in a way, being here, I feel I have found a part of you that I can now hold in my heart forever. Thank you, Jesus, for allowing me this Peace.
(Photo credits: I took the pictures but most of the credit really goes to my awesome husband who isn't lazy like me and knows how to filter and stitch images together for seamless beauty.)