It looks like the Five Favorites Blog link-up has once again vanished into the black hole of the internet and is floating around somewhere who knows where. It's like grade school all over again; I finally get my act together to join the cool kids circle and they mysteriously vanish as soon as I start walking over.
Oh well, I'll share SIX favorites anyway.
1. Sunscreen AND Bug Spray in ONE!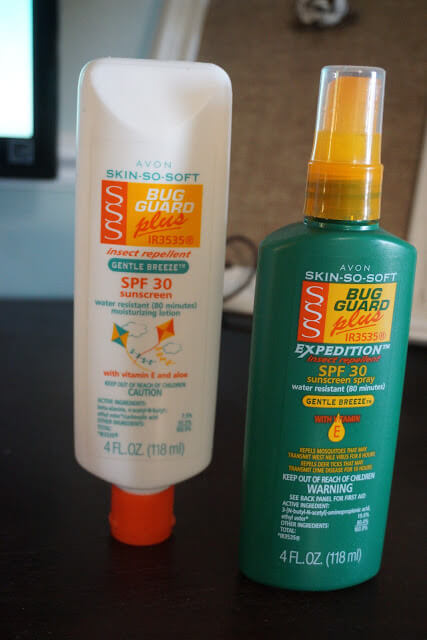 Do you ever wish you could find a sunscreen and a bug repellent all in one bottle? Well, if you wish it you will get it. (If someone else thought of it already.)
Last year, thanks to Facebook friends recommendations, I found the Avon Sunscreen Bug Repellent product. I use the lotion as my body lotion in the morning and carry an extra one in the car and use the Pump Spray when we are out and about and need a quick spray before we an adventure outside or swimming. It looks like they also sell an aerosol spray can too. I got ours at a local Avon retail shop but it looks like I over-paid compared to the great Amazon prices!
2. High Waist Active Shorts
I think I shared how excited I was to find high-waist athletic capri and high-waist long legging pants but I've been on the look-out for some high-waist athletic shorts now that it's much much warmer outside and in the gym. (It's more like exercising in a sauna! Which I guess is one way to "sweat off the pounds".)
I was super excited when I discovered Target had again heard my telepathic request and produced these High-Waist Performance Shorts. Again, I bought two sizes smaller than I usually wear so I can use these under my looser athletic shorts more like a splint to support my bulging diastisis recti so my insides don't spill out while I'm jump-jacking and burpee-ing. (haha.) It holds my tummy in very well but they do cut into my legs so I can't wear them for too long before my legs turn into tingly jello…or maybe that's from all the burpees?
3. Drawstring Cargo Shorts
I realize using the words "high-waist" and "drawstring" in succession immediately screams "MOM SHORTS!" but well…I am a mom and I need shorts that fit my mom body. 😉
A couple years ago, I discovered the amazingly comfortable yet still flattering capri cargo pants like these. They've worked out so well for casual wear to hiking in the mountains. Again, because I'm a wuss for heat, I kept my eye out the shorts cousins to the capri pants. I had to go to Kohl's to get a replacement strap for my son's watch so I took a detour through the women's section and – tada! – drawstring cargo shorts!
I picked out one of the "Loyal Blue" since I am obsessively loyal to blue and one "Paperbag" because, apparently, it may be taboo to wear a paperbag over your head but when it comes to shorts it's all the rage!
4. Simple Summer Capsule Wardrobe Plan
I realize I've neglected to post a Summer Capsule Wardrobe plan – yes I'm still riding that bandwagon. It's not all that exciting in that it usually consists of either a t-shirt and shorts, either one of my two church dresses or skirts, my gym clothes or swimsuit – because who has time to dry off and change after swimming with 4 kids in a public pool? (Really, anyone?)
In lieu of a whole post showing off my lame and lazy Summer Capsule Wardrobe plan, I'll beg your pardon with a few less-than-flattering-but-hopefully-entertaining pics of me trying to get fit my whole self into a selfie to show off the whole outfit.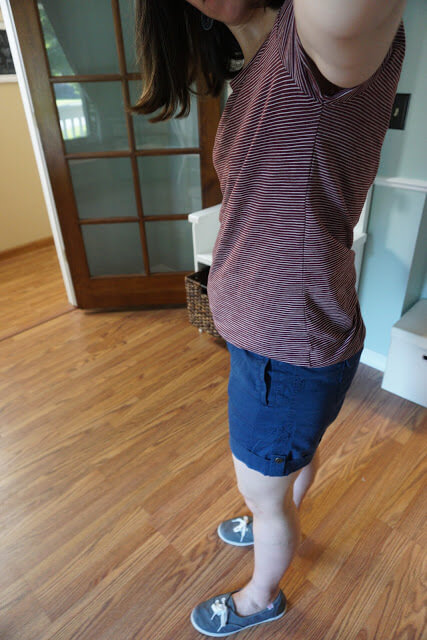 Can't go wrong with a striped shirt, "Royal Blue" shorts, and my 90's nostalgic "Keds". (I get my stripe cues from the best in mom fashion.)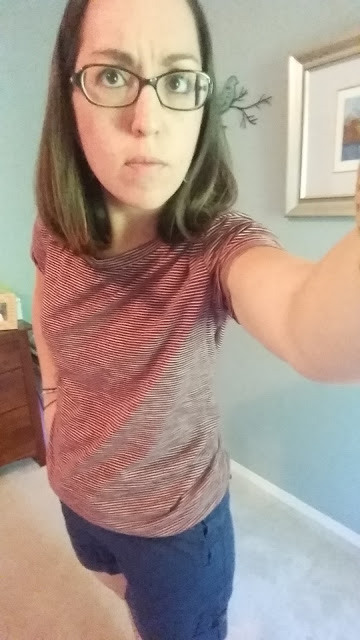 Is this thing working?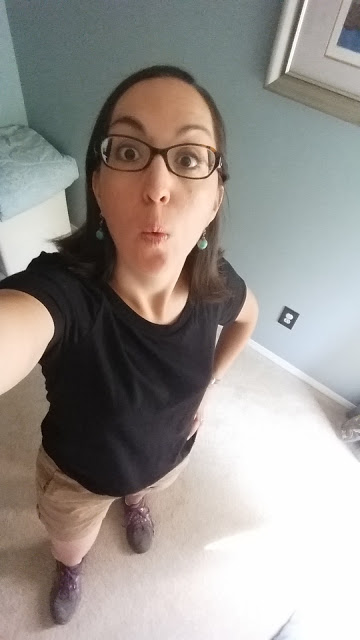 And of course, one can never go wrong with a solid black shirt and "Paperbag" shorts.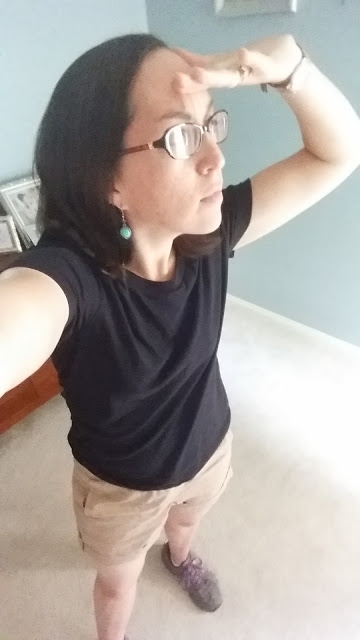 And the hiking/running shoes to make me look more athletic and less lazy. I think I see a mountain lion in the distance. Oh wait, that's just a bush.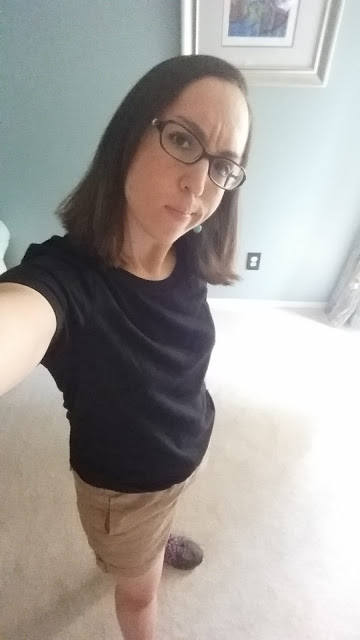 Me trying to figure out if I'm taking the picture of not. I was.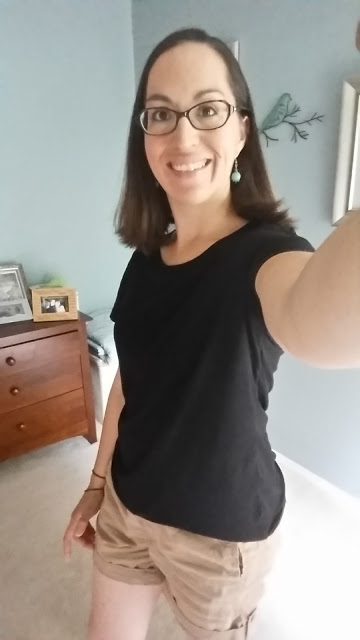 Ahh, here we go. It finally worked.
5. Prescription Goggles
Earlier this summer a friend of mine opened the door to the idea of using prescription goggles, so I bought some for me and absolutely love being able to swim and see! My son has bad eyesight too and so I decided to get special prescription goggles for kids for him also and he was overjoyed. "Now I can see under water and people far away in the pool!"
We've had some challenges with getting him to enjoy swimming and these have been a huge help in getting him to enjoy getting in the pool without the inconvenience of having swimming with a bunch of blurry people all around you.
6. Haley Stewart's Spring 2016 Spotify Playlist
Just to throw in an odd number, I'll share my current favorite Spotify playlist. It's actually Haley Stewart's – from Carrots for Michaelmas – that I somehow came across. It's got some new music I hadn't heard before that just speaks to where I am right now and soothes my soul. I put it on in the car – when the kids are driving me bonkers – or in the kitchen as we wind down from a long day.
I especially like this one:
Head Full of Doubt/Road Full of Promise: Avett Brothers

And this one, I love the "dreamy" intro before the more upbeat refrain.
What are some favorites of yours this summer?