Today begins a new Tuesday food post Summer Salad Series brought to you by my own dear mother, Martha; a mom I strive to be like but whose cooking I know neither I nor anyone could ever transcend. Her first entry (of 6) is her delicious Broccoli Salad–creamy, crunchy and sweet all at the same time!
This summer has been so hot, that salads are the way to go. Here are some of my favorite ones.
BROCCOLI SALAD
*Updated 7/26 with picture*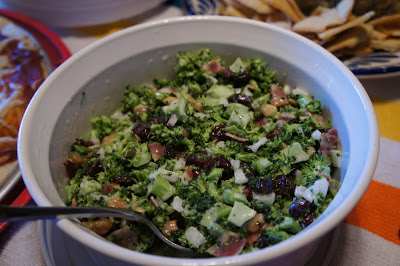 INGREDIENTS:
3 bunches of broccoli,
chopped (in small pieces not to small)
1/2 red or white onion,
chopped (in small pieces)
½ cup raisins or cranberries
or half and half
2 Tbsp. vinegar
½ or 1/3 c. sugar
1 c. mayonnaise
8 slices of fried bacon
chopped for those who like it.
½ of chopped walnuts or other
nut optional
You can add chopped: cucumber
½ to 1 cup and/or 2 rigs of celery chopped fine.
In a bowl combine broccoli, raisins/cranberries, onion (cucumber and celery) In a separate bowl, blend mayonnaise, sugar, and vinegar. Pour over broccoli mixture and let stand for at least 3 hours in refrigerator. This is a salad that can be made simple or add your own signature. The dressing is the one that gives the sweet and sour taste.