The next recipe in the Summer Salad Series by Martha is a fresh Strawberry Salad; strawberries hidden in a bed of mixed greens, sprinkled with almond slices and dressed up with a rich and sweet olive oil/balsamic vinegar dressing.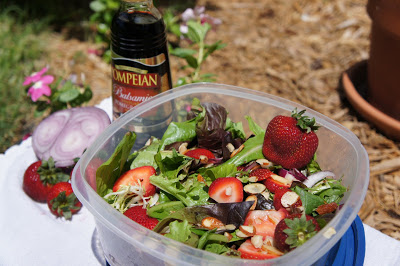 Ingredients:
½ cup red onions finely chopped*

1 package of fresh strawberries cut in pieces*

1 package of mixed greens
Sliced almonds optional
Dressing:
1 tablespoon brown sugar

2

tablespoons olive oil

1 tablespoon Balsamic vinegar
Mix it all
Combine strawberries, onion and mixed greens, toss with salad dressing.
* use as much as you want
Optional dressing: poppy seed salad dressing.