Today, for the Summer Salad Series by Martha, I would like to introduce you to the Garden Pasta Salad.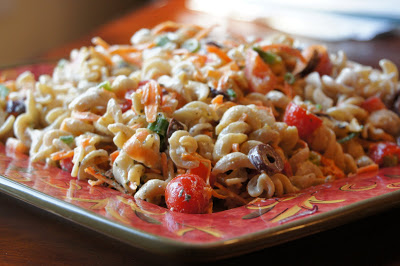 It took all day to make (because I have 3 young children not because it's really all that difficult) and it was well worth it. I'm a fan of pasta salads but you have to know how to do 'em right and this one is definitely right. It's not too oily or too sweet, just creamy and perfect. At first I was a little skeptical of all the different ingredients going into one salad but it made for an interesting ensemble of tastes and colors. This would be a perfect salad to bring for a big gathering if you double or triple the recipe as needed.
Here is the recipe as shared by Martha.
Garden Pasta Salad Source: © EatingWell Magazine
Active Time: 35 Minutes
Total Time: 35 Minutes
6 servings, 1 cup each
To make this salad more substantial, you can toss in canned chunk light tuna, cooked chicken or flavored baked tofu.Make Ahead Tip: Cover and refrigerate for up to 1 day.
INGREDIENTS
2 cups whole-wheat rotini (6 ounces)
1/3 cup reduced-fat mayonnaise
1/3 cup low-fat plain yogurt
2 tablespoons extra-virgin olive oil
1 tablespoon red wine vinegar or lemon juice
1 clove garlic, minced
1/8 teaspoon salt, or to taste
Freshly ground pepper to taste
1 cup cherry or grape tomatoes, halved
1 cup diced yellow or red bell pepper (1 small)
1 cup grated carrots (2-4 carrots)
1/2 cup chopped scallions (4 scallions)
1/2 cup chopped pitted Kalamata olives
1/3 cup slivered fresh basil
DIRECTIONS
Bring a large pot of lightly salted water to a boil. Cook pasta, stirring occasionally, until just tender, 8 to 10 minutes, or according to package directions. Drain and refresh under cold running water.
Whisk mayonnaise, yogurt, oil, vinegar (or lemon juice), garlic, salt and pepper in a large bowl until smooth. Add the pasta and toss to coat. Add tomatoes, bell pepper, carrots, scallions, olives and basil; toss to coat well.
Recipe reprinted by permission of © EatingWell Magazine. All rights reserved.
I also made an avocado-cucumber-tomato-mango salad for dinner that we used as a filler in our pork sausage corn tortilla tacos.