Next up in my random "Second Trimester Food" Series are these Barley Granola Bars I made for healthy snacking.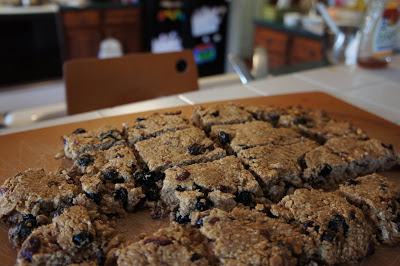 Here is the recipe:
2 cups barley flakes
1 cup barley flour
3/4 cup honey
3/4 – 1 cup cranberries, blueberries and other misc. dried fruit you want to put in.
1/4 cup wheat germ
1 – 2 TB flax seed mill (you can add more or less of this if you want)
1/2 teaspoon salt
1 teaspoon cinnamon
1/2 cup coconut oil
1 egg
2 teaspoons vanilla (optional)
optional: a handful of nuts, chocolate chips, white chocolate chips, reese's pieces chips, go crazy!
I modified this recipe from the regular Chewy Yummy Granola Bar recipe I've used in the past. I recently had a special blood test done to see what food sensitivities I have and oats, among other things, is apparently something I have an extreme sensitivity too. This is different than an allergy so don't worry I will not go into anaphylactic shock if you make me something with oats :). I just have to try and avoid eating anything with oats as much as I possibly can. (This can be very hard to do!). So I've been slowly trying to replace recipes that call for oats with other grains like barley, rye and quinoa. The taste was a bit different as well as the overall consistency but that might be because I only put honey in and a different type of coconut oil than in the past. It was nice to have some home-made snacks that I could eat readily available for about a week or so. (I had to hide them from everyone else to make them last that long!)
In the past eating anything with oats definitely did a number on my…er…digestive tract. My poor husband's nose can attest to this fact. So I was hoping that exchanging the oats for barley would solve this (ahem) issue but it only seemed to mildly help. Sorry this might be "TMI" (or is it t.m.i?) but I'm curious if anyone else has this same experience after eating granola bars or granola?
Anyway, hope you enjoy these Barley Granola Bars! If you try this recipe let me know how it goes and if you have any suggestions for helping everything stick better and not crumble.