Ok, ok I know you've all been holding onto your phones or standing by your computer waiting for the notifications to pop up and tell you I finally posted more about this whole Wardrobe Capsule Project 333 that I've mentioned in the last posts. Your life can go on now.
I had never heard anything about Project 333 or a Wardrobe Capsule – even though apparently it's been a popular thread in newsfeeds for a while. So last month, while wrapping presents, I decided to tune into Kristin's This Inspired Life's Podcast while I had some rare moments of quiet to myself. While browsing for one to listen to, I saw this one –
PROJECT 333 CREATOR COURTNEY CARVER ON THE CAPSULE WARDROBE, SIMPLICITY, AND TIPS FOR TRAVEL!
At first I wasn't going to listen, thinking it was just some boring stuff about fashion that would only make me feel self-conscious and old-fashioned and make me want to be someone I'm not. (Like trendy or something.)
But I decided to go ahead and try it out because the word, "simplicity" is always on my mind. After listening, I LOVED everything about it and began majorly swooning over the whole idea!
The timing of hearing about it was perfect as I'd already started trying to simplify my wardrobe and had even planned a post about how I was going to simplify my wardrobe with plain shirts and accessories as embellishments.
I'm also am a tad clutter-phobic. (There's even a medical term for it – ataxaphobia)
My closet had become increasingly out of hand. I kept all my clothes in there from all seasons of weather and life (maternity/nursing). Partly because I was too lazy to put them away and partly because I was too lazy to have to get summer clothes back out on those random 90 degree days in the middle of January. I also had all the baby's clothes in there until we moved his clothes and him in with his brother last week.
I think the idea of simplifying my wardrobe may have been partly inspired by Downton Abbey – which RETURNS TONIGHT!!! Not that I was going to go around in ball-room dresses everyday, but I noticed that they only used 3 – 4 very nice dresses and rotated them throughout the days. How times have changed!
So I knew this was exactly what I'd been trying to invent but now I didn't have to – someone else already did. Bonus!
As soon as we got through Christmas, I went to the Project 333 site and read all about what it is and the rules.
I shared the idea with my husband and he didn't think it sounded that hard to do thinking 33 items is a lot and it wouldn't be much of a challenge. But when you start counting pants, shirts, scarves, shoes, and accessories, you'd be surprised how quickly it all adds up. After counting everything in my closet (excluding maternity clothes, undergarments and socks), I'm rather ashamed to admit I counted –
144 clothing items, 20 necklaces, 22 pairs earrings, 15 Bracelets (that i never wear but keep for sentimental reasons mostly), and 11 pairs of shoes!
At this point, I should say that I'm incredibly thankful for these clothes and accessories, many of which have been gifted to me over the years and because of that hold a greater value than had I just bought them myself. It makes me uncomfortable knowing that while I stand in my walk-in closet feeling overwhelmed by my excess, there are those who stand alone in their material poverty.
However, even while others lack, this gives me no justification to live in excess or in gross attachment to what I don't really need.
Like Kendra Tierney puts it in her post – AN INSPIRED CAPSULE WARDROBE
We are called to be detached from our possessions. We are called to be "poor in spirit." That doesn't mean being unhappy. It means living a spirit of poverty, treating the things I own as not belonging to me, just as things I'm looking after, because everything belongs to God.
I've been craving a simpler life, not just for my own sanity – although that's a major reason – but for something greater. By living simpler, it clears room in my mind and life to focus on more important things. The less I'm attached to myself and what I own, the more of myself I'll have to give to others.
So, with a great amount of nerdy excitement, I got all my clothes out and set apart those to get put away, those to donate, and those I'd hang in the closet as my Capsule Wardrobe for the next 33 days (for 3 months). I did leave a few extras as a reserve since I'm a mother of four and life can get messy from time to time. All my work out clothes are separate also but I can only them for working out!
Speaking of, here's another good post from Jenna from A Mama Collective – CAPSULE WARDROBE EXPLANATION FROM A NOT-SO-FASHIONABLE MOM OF THREE
I also combined some clothes, like a sweater and shirt, together as one since I wouldn't wear the sweater without a shirt, and the same for an tank and shirt as one. Maybe that's "cheating" but it works for me and the thing I like most about Courtney's rules is what she says here:
Again, this is not a project in suffering. I want Project 333 to bring you joy not frustration!
I'll share some of my wardrobe via Instagram, here's what what the closet started out as (after I moved the baby's boxes of clothes.)
And here's the tops/scarves after…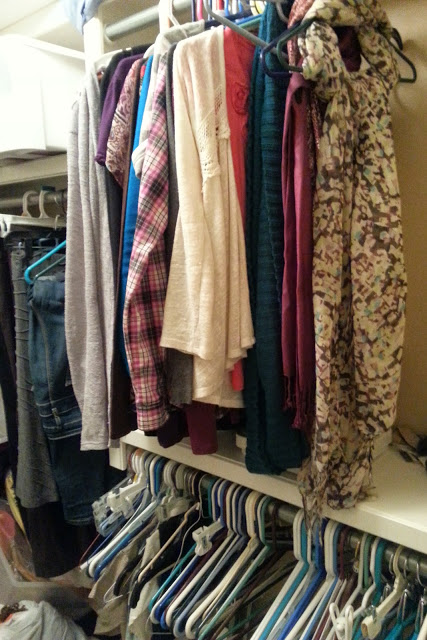 And the bottoms -2 dress pants, 2 dress skirts, 2 jeans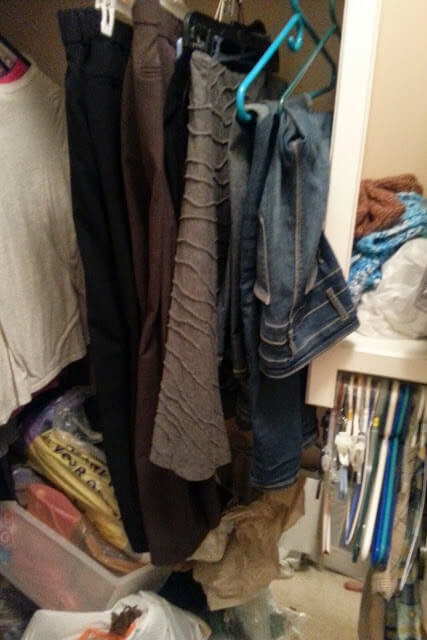 And I paired down my earrings and necklaces down to just these: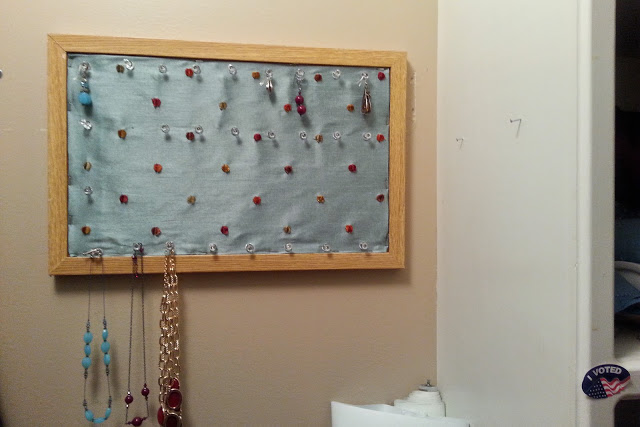 Here are some of the outfits I've worn the past four days: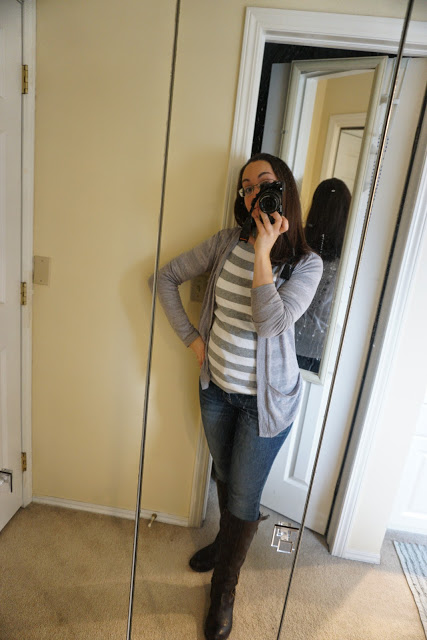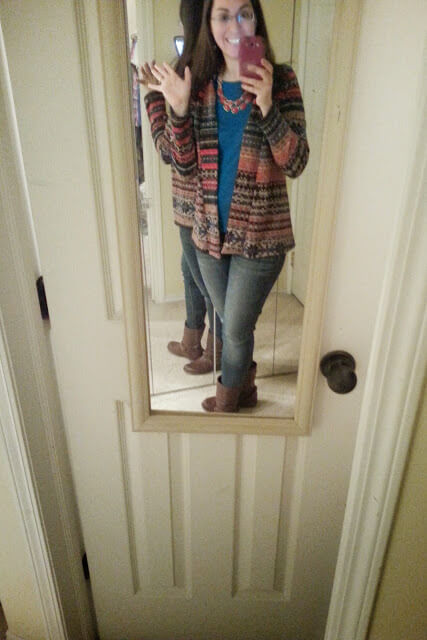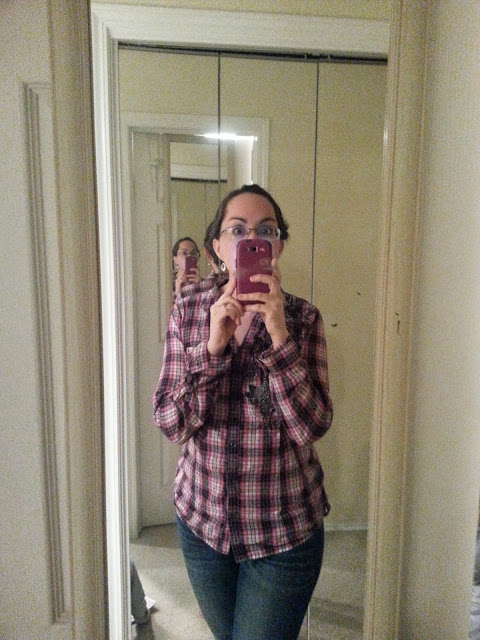 So that's it! So far, I'm loving this whole challenge! It makes me excited to get up in the morning and walk into my closet and only have a few options of what to wear so I don't stand there fretting about it and wasting precious moments of time. I'll come back and update soon!